Are you thinking about moving to Bakersfield? There's a lot to love about this beautiful Kern County city! Bakersfield is known for country music and the "Bakersfield sound," Kern River recreation, golf courses, and its oil and agricultural industries. Residents enjoy affordable California living, beautiful outdoors, and excellent employment opportunities.
How did Bakersfield get its name? Following the discovery of gold in California in 1848 (and three years later along the Kern River) and the discovery of oil in the San Joaquin Valley in 1865, settlers flocked to the area of modern-day Bakersfield. The original settlement built in 1860 was washed away, but a former colonel and lawyer from Ohio named Thomas Baker moved to the area in 1863. His homestead, called Baker's Field, became a stop for travelers and had a population of 600 by 1870. It was incorporated as a city in 1873.
Speaking of names, Bakersfield is known by many nicknames. It's "the Country Music Capital of the West" and "Nashville West" for its country music which came from Dust Bowl migrants. Its energy production has earned it the name "the Energy Capital of California," while locals sometimes call it the "Texas of California."
Here's everything you have to look forward to while living in Bakersfield.
Where Is Bakersfield?
Bakersfield is the county seat and largest city in Kern County, California. The city is located on the Kern River at the base of the Sierra Nevada mountains to the east. The Bakersfield city limits include part of the Sequoia National Forest at the Kern Canyon entrance in the Greenhorn Mountain Range foothills. The Tehachapi Mountains are just south of Bakersfield.
Situated in the southern end of San Joaquin Valley and Central Valley region, Bakersfield is part of Southern California or SoCal. Bakersfield is halfway between Fresno and Los Angeles: 109 miles south of Fresno and 113 miles from Bakersfield to LA.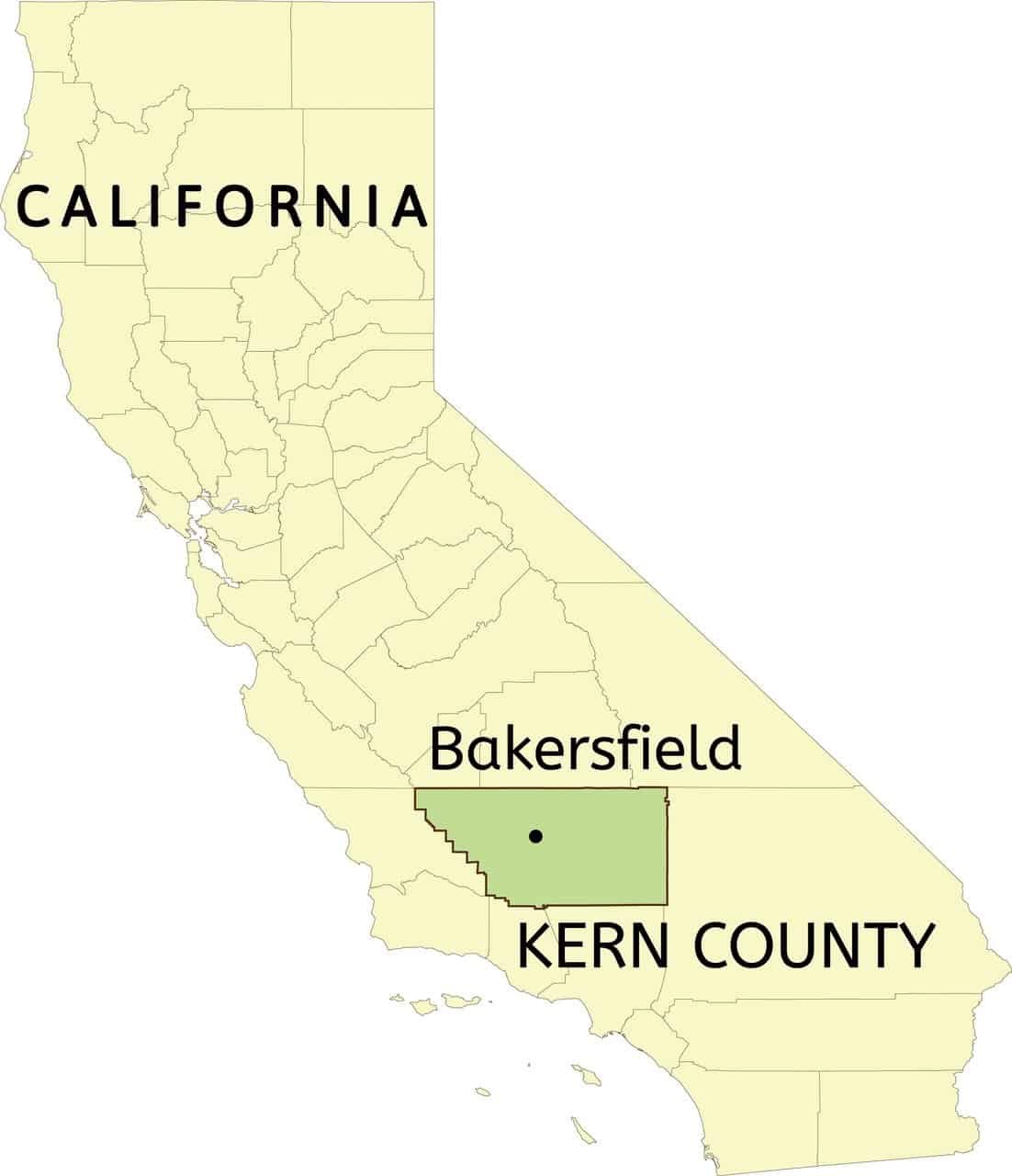 Bakersfield Population & Demographics
The population of Bakersfield is 403,455 according to the 2020 census, up from 347,483 in 2010. The city has 142 square miles of land with a population density of 2,444 people per square mile. It's part of the Bakersfield-Delano metro area that includes all of Kern County. The Bakersfield metro population is 909,235 in 2020. It's the 10th largest urban area in California.
Bakersfield is a diverse, minority-majority city. The ethnic and racial composition is: 52.7% Hispanic, 38.9% white (28.8% non-Hispanic white), 7.8% Asian, 7% Black or African American, and 16.6% two or more races. Kern County, CA became Hispanic majority in 2021 for the first time.
Bakersfield demographics:
Median household income: $65,687 (California median: $78,672)
Foreign-born population: 19% (California: 26.6%)
Median age: 31 (California median is 36.7)
Homeownership rate: 59%
Average household size: 3.2
Sex ratio: 51% female to 49% male over 18
Educational attainment: 81% high school grad or higher; 23% bachelor's degree or higher
What Is the Cost of Living in Bakersfield CA?
The Bakersfield cost of living index is 110 or 10% higher than the national average. It's by far one of the most affordable places to live in California! By comparison, the California cost of living index is 152.
Healthcare and groceries are about 10% higher than the U.S. average, but Bakersfield utilities are higher than average. You'll pay about 40% more for utilities in Bakersfield vs the national average.
According to the Economic Policy Institute, a family of four would need to earn $6,327 per month ($75,929) for a modest standard of living in Bakersfield.
Taxes in Bakersfield
Property tax: 7.25%. Bakersfield is California's largest city to have the state minimum sales tax!
Property tax: See Bakersfield property tax rates here. Expect to pay 1.1% of your purchase price/assessed value in property taxes.
Income tax: California income tax is 1% to 12.3%. This is the highest in the country.
You can learn more about the cost of living in Bakersfield with our complete guide!
Bakersfield Real Estate Market | Average Rent in Bakersfield & Home Prices
Bakersfield is one of the top destinations for people moving in California thanks to its low cost of living and, in particular, affordable Bakersfield home prices compared to the rest of the state. Bakersfield has been called the last frontier of affordable homes in California.
The Bakersfield median home price is $391,000, up 22% year-over-year and a sharp increase from the median price of just $260,000 in summer 2019. That's still almost half the median California home price of $787,000!
Considering renting after moving to Bakersfield? The average rent in Bakersfield, CA is $1,368, almost $300 lower than the national average and a steal compared to $2,660 average rent in LA. Even the most expensive, luxury neighborhoods in the city have average rent of just $2,000.
Bakersfield Neighborhoods | Best Places to Live
Ready to explore the best places to live in Bakersfield, CA? The city has something for everyone: affordable, established neighborhoods, luxury master-planned communities, golf course communities, and walkable urban areas. Bakersfield is usually divided into regions that include North, Northeast, South, Southeast, Southwest, Northwest, and East Bakersfield, but there are smaller neighborhoods in each. Here are some top choices – check our guide to the best neighborhoods in Bakersfield for more recommendations!
Downtown Bakersfield – Walkable Urban Area Great for Millennials and Young Professionals
Living in Downtown Bakersfield is perfect for you if you're looking for a walkable neighborhood, modern and upscale apartments, and great amenities. You'll find everything from burger joints and cocktail lounges to museums, live music venues, theaters, and nightclubs.
Seven Oaks – Luxury Master-Planned Golf Community
Seven Oaks is one of the most desirable neighborhoods in the city. Home to a prestigious country club, you'll find gated entries, landscaped parks and common areas, monuments, and striking architecture. The community has trails that link the entire community together, community rec centers and parks, and it connects to the Kern River Bike Path!
View this post on Instagram
Stockdale River Ranch – Exciting Master-Planned Community on the West Side
Stockdale River Ranch is one of the latest luxury communities in Bakersfield with farmhouse and Spanish Mission style mansions. This 565-acres west side development features a 22-acre community park, business park and shopping, and several smaller neighborhoods including Park West, a 312-unit farmhouse-inspired apartment complex.
RiverLakes Ranch – Best Neighborhood in Bakersfield for Families
The desirable RiverLakes Ranch community is one of the best places to raise a family. Residents enjoy highly rated schools and excellent amenities. The community has a private 17-acre lake with fishing, boating, sailing, and kayaking. The private Beachclub offers a kid's wading pool, children's spa, fenced playground, adult-only spa, and beach entry pool. The highlight of the neighborhood is the Links at Riverlake Ranch, one of the best golf courses in Kern County.
Bakersfield Climate | What's the Weather Like in Bakersfield?
If you enjoy the heat, you'll love living in Bakersfield. The city has a hot arid climate with very dry, hot summers and mild winter days with chilly nights. This San Joaquin Valley city has a low desert landscape and gets just 7" of annual rainfall, most of it in the winter. The winter low is 38 degrees but the summer high temperature in Bakersfield is 97 degrees in July! About 105 days a year have high temperatures above 90 degrees.
The best time to visit Bakersfield is April to May or October to avoid the intense summer heat.
With its intense heat and dry climate, Bakersfield wildfires are too common. The region is considered a high-risk fire area. The long California drought also has a strong effect on Kern County farmers.
Top Places to Eat in Bakersfield
The best restaurants in Bakersfield run the gamut from American comfort food and authentic Mexican cuisine to Basque food. The city's Basque Block has America's largest concentration of Basque restaurants! Here are the most exciting places for food in Bakersfield.
Wool Growers Restaurant. This family-owned Basque Bakersfield restaurant and cocktail lounge is a city icon with roasted meat dishes and a warm atmosphere. Wool Growers Restaurant, 620 E 19th St, Bakersfield, CA 93305 (661) 327-9584
Black Bear Diner. Enjoy American comfort food in a woodsy environment. Their breakfast and stamped waffles are always a hit! Black Bear Diner Bakersfield, 4102 California Ave, Bakersfield, CA 93309 (661) 322-5000
Frugatti's. One of the best Italian eateries in the city, Frugatti's is just off the Kern River bike trail and offers a cozy atmosphere, housemade pasta and bread, and amazing pizza. Frugatti's, 600 Coffee Rd, Bakersfield, CA 93309 (661) 836-2000
View this post on Instagram
Things to Do in Bakersfield
Bakersfield Attractions
Explore the major Bakersfield, CA points of interest and tourist attractions.
Bakersfield Entertainment & Arts
As the Country Music Capital of the West Coast, Bakersfield offers plenty of entertainment with live music venues, theaters, and attractions for thrill-seekers.
Bakersfield Museums
Visit the best museums in Bakersfield for kids and adults alike.
Kern County Museum offers exhibits on Kern County history with the Pioneer Village, 16 acres with more than 50 original buildings from around the county. It's home to the Lori Brock Discovery Center, a hidden gem great for kids who love hands-on learning and cooperative play, and the iconic Beale Memorial Clock Tower.
Buena Vista Museum of Natural History & Science is a smaller but popular museum in Bakersfield downtown with hands-on learning for kids.
Bakersfield Museum of Art showcases Californian artists with educational programs and kids' art classes for the community.
Bakersfield Parks & Recreation
View this post on Instagram
Explore the best parks in the area for outdoor recreation, swimming, and sports. You'll also find tons of options for Bakersfield camping including Kern River camping! Make sure you check our guide to Bakersfield dog parks too.
Lakes in Bakersfield
One of the most popular things to do in Bakersfield, CA is hitting the water for a day of boating, swimming, or fishing.
Lake Ming is a man-made Bakersfield lake perfect for a day on the water. Enjoy waterskiing and boating, fishing from the shore, or have a relaxing picnic on the scenic hilltops surrounding the lake. Note that swimming at Lake Ming, Bakersfield is prohibited.
Buena Vista Lake refers to the Buena Vista Aquatic Recreational Area with two lakes: Lake Webb and Lake Evans. Just 25 miles outside Bakersfield, the freshwater lakes offer fishing, boating, sailing, and jet-skiing.
Lake Isabella is an hour out of Bakersfield in the Sequoia National Forest. There's hiking, boating, jet-skiing, water skiing, sailing, fishing, and snow skiing plus camping and even motocross driving!
Golf Courses in Bakersfield
View this post on Instagram
With a mild climate, affordable greens fees, and beautiful scenery in Bakersfield, golf is a very popular hobby!
Links at Riverlakes Ranch Golf Course is part of a master-planned community with a gorgeous course set amid a dozen lakes and almond trees.
Kern River Golf Course is a public golf course 15 minutes outside Downtown Bakersfield and surrounded by lakes, mountains, rivers, and beautiful orchards.
Seven Oaks Country Club is the most popular Bakersfield country club with gorgeous fairways for golf, tennis, swimming, beautiful lakes, and dining and social events.
Shopping in Bakersfield
Shop 'til you drop at these popular shopping centers and malls.
Bakersfield Plaza is a major mall with regional and national retailers like Hobby Lobby and Burlington.
Valley Plaza is an upscale shopping center with a movie theater, dining, and over 135 retailers!
The Marketplace is a shopping complex anchored by the Regal Edwards theater.
Things to Do in Bakersfield Map
Bakersfield Utilities & DMV Change of Address
If you're moving to Bakersfield, be prepared for transferring or setting up utilities and completing the Bakersfield change of address process. Here's a quick overview.
Gas and electric company: Pacific Gas and Electric (PG&E)
Water company: California Water Service (Cal-Water)
Sanitation service: City of Bakersfield Solid Waste Division

Cost of trash pickup: $28/month
Learn more about average bills, setting up an account, and more with our complete guide to Bakersfield utilities!
If you're moving to Bakersfield, CA from elsewhere in California, make sure you change your address with the Bakersfield DMV. You can submit the change of address online.
Sports in Bakersfield
Sports fans may be disappointed to learn they won't be rooting for any major league home teams while living in Bakersfield, CA. The closest major league sports team is actually in Los Angeles!
Bakersfield is home to two minor league teams: the Bakersfield Train Robbers baseball club and the Bakersfield Condors of the American Hockey League. There are also strong college athletics programs including the Bakersfield Renegades of Bakersfield College, best known for their football team. There are many motor racing venues with a strong following in the area!
Bakersfield Transportation | Public Transit, Highways & Nearby Airports
Ahead of living in Bakersfield, it helps to know how to get around. The city is served by several major highways and roadways:
I-5 runs past Bakersfield to the west but not in the city limits. Bakersfield is one of the largest U.S. cities without a direct Interstate highway link.
State Route 99 runs north-south through the city
State Route 58 serves southeast Bakersfield and continues to Tehachapi and Barstow
Thanks to its grid street system and mostly flat roads, bicycling is popular in Bakersfield with most major streets offering bike lanes and signage.
View this post on Instagram
Public transportation includes:
Golden Empire Transit operates Bakersfield buses with 15 routes and an express route. Their On Demand service can pick you up from home and take you to your destination with a cost based on mileage!
Intercity bus service with Greyhound, Amtrak Thruway, and other providers
Amtrak California operates the San Joaquin Route with passenger rail service between Bakersfield and Stockton, Sacramento, and Oakland.
The Meadows Field Airport (BFL) in Bakersfield is the region's main airport just 3 miles outside Downtown Bakersfield. The Bakersfield airport offers five nonstop destinations including Phoenix, Dallas, Denver, Sacramento, and Reno.
Bakersfield Crime Rate | Is Bakersfield Safe?
As you consider living in Bakersfield, CA, safety may be a major priority. Is Bakersfield dangerous?
The Bakersfield, CA crime rate is:
4,597 total crimes per 100,000
455 violent crimes per 100,000
4,142 property crimes per 100,000
Crime in Bakersfield is 66% higher than the California crime rate and 86% higher than the national average. While the violent crime rate is very close to the state average, the Bakersfield murder rate is 109% above the CA average.
Kern County has had California's highest homicide rate since 2016. This is largely due to rival prison gangs warring in the rural area in the northern part of the county. Like many U.S. cities, Bakersfield set a homicide record in 2020 during the COVID-19 pandemic with 45 murders. However, there were 57 Bakersfield murders in 2021. That's up from 34 homicides in 2019. The Bakersfield homicide rate was 9 murders per 100,000 people in 2019 compared to the national average of 5 homicides.
While high Bakersfield crime may be frightening, many areas of the city are very safe with violent crime concentrated in a handful of regions. Of the 51 zip codes in Kern County, only 21 reported murders in 2021. Many of these zip codes had just one or two murders, but certain zip codes account for a huge share of Bakersfield murders. The 93307 zip code alone, stretching from East Bakersfield to Edison then south to Mettler excluding Lamont, had 36 of the 57 homicides in 2021.
Dangerous areas of Bakersfield are mostly easy to avoid. According to police, 77% of homicides involve guns and one-third of firearm murders are related to gang activity and happen in specific areas.
The community is served by the Bakersfield Police Department which has 380 sworn officers or 1 officer for every 1,000 residents.
Bakersfield Economy
Like the rest of Kern County, the economy of Bakersfield is centered on agriculture and oil. The San Joaquin Valley is one of the country's top agricultural regions with major crops including grapes, cotton, roses, alfalfa, carrots, and citrus.
The other backbone of the economy is oil. Bakersfield is an oil town with the county accounting for 75% of crude oil production in California. Oil has been big in Bakersfield since the discovery of the Midway-Sunset Oil field in 1894 which is still one of the country's largest. There are over 16,000 jobs in Bakersfield and Kern County directly tied to oil and gas, and another 30,000+ indirectly connected with high wages.
However, Bakersfield is increasingly turning to renewable energy. As the energy capital of California, Kern County now generates 50% of California's renewable energy with the country's largest geothermal and wind facilities and the second-largest solar field.
Distribution, manufacturing, and healthcare are also major sectors. The growing manufacturing industry in Bakersfield includes the largest ice cream plant in the world, stock racing cars, and central vacuum systems.
Its affordable land, close proximity to Oakland and Los Angeles ports, and mountain passes that make it a regional transportation hub make Bakersfield a growing destination for logistics and distribution companies.
Healthcare in Bakersfield
There are one dozen hospitals in Bakersfield and neighboring cities. Adventist Health Bakersfield is the only A-rated Kern County hospital. Their award-winning care includes the AIS Cancer Center, the Brain and Spine Institute, the Breast Center, maternity care and NICU services, surgical services, wound care, and an emergency center that treats 50,000 patients every year.
Bakersfield Memorial Hospital is nationally ranked in treating kidney failure and stroke. The Dignity Health Mercy and Memorial Hospitals have earned the Gold Seal of Approval and Advanced Certification to be a Primary Stroke Center.
Other major hospitals and medical facilities include:
Kern Medical general hospital
Kaiser Permanente Kern County Medical Facilities
Mercy Hospital Downtown Bakersfield
Good Samaritan Hospital
Encompass Health Rehabilitation Hospital of Bakersfield
Jobs in Bakersfield CA
Ready to explore jobs in Bakersfield, California? The average salary is $72,000 or $19.18 an hour, according to Payscale. The BLS reported a mean hourly wage of $26 in Bakersfield across all occupations. The two largest occupations in the city had much lower mean wages: farming and forestry ($14.09/hour) and office and administrative ($20.11).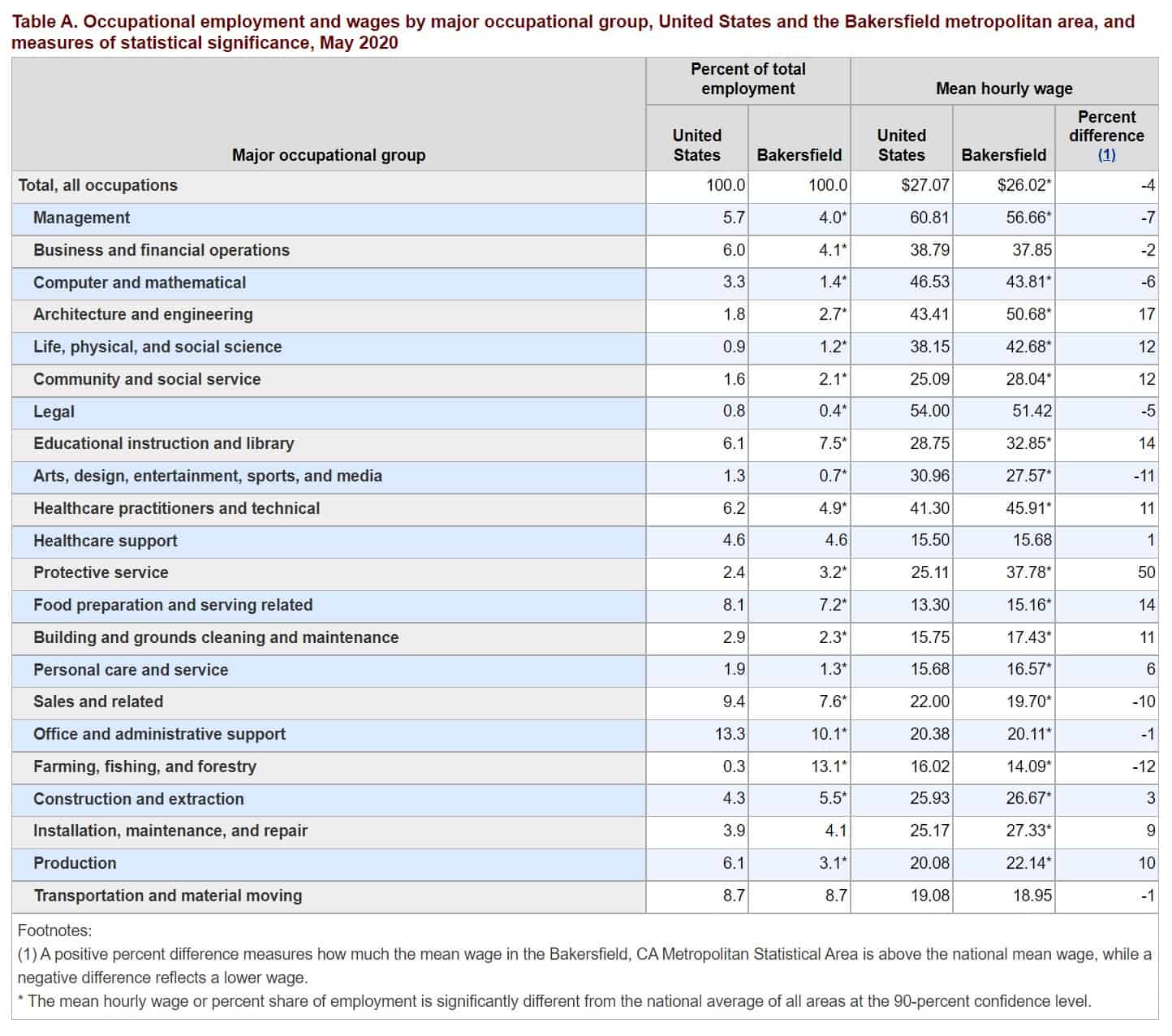 Most Bakersfield jobs are in government, agriculture, healthcare, energy, education, or manufacturing and distribution. Major employers in Bakersfield include:
Kern County
City of Bakersfield
Giumarra Farms
Grimmway Farms
Bolthouse Farms
Bakersfield Memorial Hospital (careers)
Mercy Hospital
Kern Medical Center
San Joaquin Community Hospital
Kaiser Permanente
California State University, Bakersfield (careers)
Bakersfield College (careers)
Bakersfield City School District (careers)
Chevron North America
Texaco
ARB Inc. (renewable energy, pipeline construction, oil and gas)
Aera Energy
Frito-Lay
Nestle Ice Cream Co.
Amazon (jobs in Bakersfield) with a 2.6 million square foot fulfillment center
Want to explore employment opportunities ahead of moving to Bakersfield? You can see City of Bakersfield jobs and Kern County jobs on their job boards. You may also find it helpful to search for Bakersfield, CA jobs on Indeed.
Schools in Bakersfield CA | Public, Private & Higher Education
While living in Bakersfield, you will be served by one of three elementary school districts in Bakersfield and the high school district.
School Districts in Bakersfield
District
Schools
Area Served
What to Know
Panama-Buena Vista Union (P-BVUSD)
23 schools (K-8)
Southwest Bakersfield
Excellent music program and GATE program
Fruitvale School District
5 schools (K-8)
Northwest Bakersfield & Fruitvale (district map)
Endeavour Elementary earned the Distinguished School award (2021)
Bakersfield City School District (BCSD)
44 schools (K-8)
Bakersfield
California Exemplary District List & many award-winning schools
Kern High School District (KHSD)
18 schools (9-12)
Bakersfield
Dual Enrollment and Gifted and Talented Education (GATE) programs
Check our complete guide to Bakersfield school districts to find the best high schools in Bakersfield, private schools, view district report cards, and more. We also have a guide to the best Bakersfield preschools!
Considering higher education? There are two main options. Bakersfield College or the Bakersfield Community College has a northeast Bakersfield campus and downtown satellite campus with 184 Associate's and certificate programs. It serves 18,000 students every semester as part of the Kern Community College District. California State University, Bakersfield (CSUB) is the only public university in Bakersfield. It offers 31 bachelor's and 22 master's programs.
Students of all ages benefit from the Kern County Library. The Bakersfield library offers online resources, events, and vast access to eBooks!
Pros and Cons of Living in Bakersfield CA
Pro: Affordable home prices and low cost of living
Pro: Excellent outdoor recreation with parks, golfing, lakes, and river activities
Con: Bakersfield summers are very hot and dry with a high risk of fires
Con: The air quality in Bakersfield is poor
Have you settled on moving to Bakersfield, CA? Give us a call at Mentors Moving & Storage for the stress-free relocation you deserve. We'll help you make a seamless transition to your new home so you can start enjoying everything the city has to offer!