Located in California's beautiful Central Coast area, San Luis Obispo is a smaller city known for the Mission San Luis Obispo de Tolosa, an 18th century Spanish mission, as well its vineyards, relaxed lifestyle, and stunning canyon views. Located halfway between Los Angeles and San Francisco, life in San Luis Obispo — or SLO to the locals — is laid back but that doesn't mean there isn't plenty to do. Cal Poly brings a huge population of students to the city and downtown is always hopping!
Ready for life in SLO? The first step is choosing from many great San Luis Obispo neighborhoods. The city has a community for everyone, including hikers, students, young professionals, and families. Here are the 9 best places to live in San Luis Obispo, CA.
Laguna Lake – Affordable Living in San Luis Obispo
The Laguna Lake community surrounding Laguna Lake in southwest San Luis Obispo begins at Los Osos Valley Road and extends to Highway 101 in a square. Laguna Lake is one of the most affordable suburbs of San Luis Obispo with older homes mostly built in the 1970s. You'll find a large mix of home types including smaller ranch homes from the 1960s.
Laguna Lake has something for every budget. Along with its affordable, older homes, several new planned communities have been built in the area. With prices ranging from $950k to $1.2 million, these larger homes boast up to 3,700 square feet of space.
The neighborhood is home to the 9-hole Laguna Lake Golf Course, a municipal golf course that's open to the public. It also features three great parks: Laguna Hills, Smith Park, and Laguna Lake Park. The latter has an off-leash dog park, playground, volleyball courts, and plenty of walking trails. This makes Laguna Lake one of the best San Luis Obispo neighborhoods for dogs and kids!
Railroad District – SLO's Coolest Neighborhood
Home to the SLO Railroad Museum, the Railroad District is the coolest neighborhood in San Luis Obispo with great urban character, some of the best places to eat, and easy access to downtown and Cal Poly University. As the hippest San Luis Obispo neighborhood, the Railroad district is popular with professionals, families, and students.
The Railroad District is connected to other San Luis Obispo neighborhoods and downtown through public transportation with a convenient Amtrak station as well as the Railroad Bike Path and Morrow St. Bike Boulevard for an easy commute to work or school. It's definitely an active community with pedestrians and cyclists sharing the streets!
Homes in the Railroad District range from mid-priced homes starting in the $400s to properties topping $1 million. While it isn't home to many luxury estates, it also doesn't offer many starter homes for young families. Because it's one of the most sought-after suburbs of San Luis Obispo, homes tend to sell very quickly.
Downtown District – Exciting Lifestyle in San Luis Obispo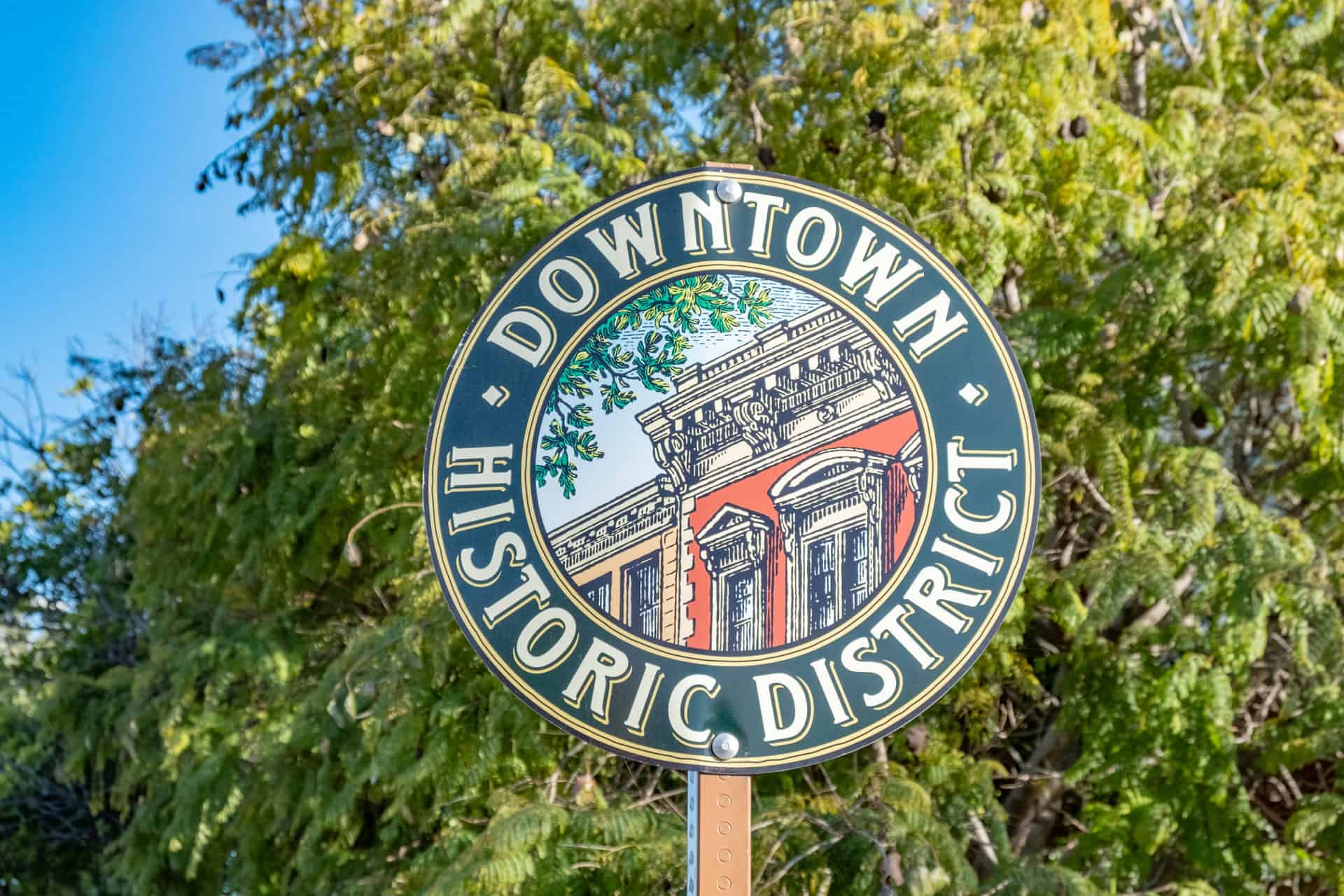 For young professionals and anyone who loves to be close to the action and nightlife, no San Luis Obispo neighborhood compares to Downtown. Living in the Downtown District, you'll be close to dozens of attractions like:
Fremont Theatre
Downtown Centre Cinemas and Palm Theatre
Children's Museum
Downtown boasts an exciting nightlife at your fingertips with lounges, bars, and music venues like Sidecar, Luna Red, and Creeky Tiki along Higuera Street. The SLO Creek also runs through downtown, perfect for daytime strolls.
Downtown SLO is the perfect example of architecture popular between 1890 and 1910. There's a mix of Victorian homes and smaller bungalows popular with young professionals and families. You'll find everything from small starter homes under 1,000 square feet to mansions that top $3 million. This is one of the most exciting neighborhoods in San Luis Obispo but be prepared to pay a premium for downtown living!
View this post on Instagram
Mill Street Historic District – Oldest Neighborhood in San Luis Obispo
Love the charm of beautiful, historic architecture? Consider living in the Mill Street Historic District, one of the oldest San Luis Obispo neighborhoods. This iconic tree-lined block features a range of home styles popular in the early 20th century like Tudor homes, Prairie Colonial homes, Craftsman homes, and Mission Revival homes. The median list price for homes in the community is around $940k.
Mill Street Historic District is popular among professionals who work downtown thanks to the neighborhood's convenient location. You'll be within walking distance of restaurants like Raku Ramen and shopping along Monterey Street.
View this post on Instagram
The Arbors – New Homes in San Luis Obispo
Looking for new construction? The Arbors is one of the newer planned communities in San Luis Obispo. The community includes Boxwood Court, Aralia Court, Olea Court, Sawleaf Court, Ironbark Street, and Ashmore Street with architecture that departs from the rest of the city. You'll find stucco homes and Spanish tile roofs with 3- and 4-bedroom homes. This is one of a handful of San Luis Obispo neighborhoods with an HOA but fees are low.
There are about 130 homes in The Arbors with an average sales price of $800k. With newer, spacious homes, large yards, and plenty of green space, The Arbors is one of the most popular neighborhoods in San Luis Obispo for families. The neighborhood is right next to Islay Park, one of the city's largest community parks with lots of trails to explore, an open field for dogs, and sand volleyball and tennis courts.
Japantown – Most Affordable Place to Live in SLO
Japantown is one of San Luis Obispo's many historic districts and it was once home to a thriving community of Japanese-Americans who were forced to relocate under President Roosevelt's orders after the Japanese attack on Pearl Harbor. Located between Madonna Street and South Street, pre-WWII Japantown was home to Hokubei Ryoken hotel, Bataan Fish and Meat Market, and Sun Grocery. Today, it features Eto Park in commemoration of its former Japanese community.
This small community is now one of the most affordable neighborhoods in San Luis Obispo with a median list price of $575,000 and many smaller single-family homes in the high $200s. This community is popular with families with three top-rated schools including Hawthorne Elementary School and San Luis Obispo High School with a low student-to-teacher ratio and above-average test scores.
Prefumo Canyon Road – San Luis Obispo's Best Views
Want a safe, secluded neighborhood with stunning canyon views? Look no further than Prefumo Canyon Road. The upper section of the road features secluded rural estates with plenty of land and unbelievable views. Take in sweeping views of vineyards, canyons, and fruit tree orchards and choose from many homes built in the 1960s to 1990s with upscale amenities like wine cellars, marble entries, and winding staircases.
You'll find a huge range in prices depending on how far into the canyon you search. Homes closer to the city are the most affordable and tend to be smaller while homes further into the canyon can be quite grand and top $1-2 million.
View this post on Instagram
San Luis Obispo Country Club – Prestigious Suburb of SLO
The community around the country club is one of the most affluent neighborhoods in San Luis Obispo. This gated community, mostly built in the 1980s and 1990s, features a large collection of single-family homes and about 100 townhomes. There's also an older section of the community with condos and homes built in the 1960s with great views of the fairway.
As one of the safest neighborhoods in San Luis Obispo, the country club community is popular with retirees and young families. Kids can walk a safe and short distance to Los Ranchos Elementary School, one of the county's top-rated schools. You'll also be within 2 miles of the airport as well as dining, shopping, and bus lines.
The highlight of living within the San Luis Obispo Country Club Estates? Stunning views of the fairway and Edna Valley vineyards and convenient access to the members-only SLO Country Club. Along with golf, members enjoy tennis courts, a newer fitness center, an aquatics program, and a clubhouse. Families can benefit from the Children's Activity Center with recreational activities and childcare.
Ferrini Heights – Best Neighborhood in SLO for Staying Active
Love staying active? Ferrini Heights is one of the best areas to live in San Luis Obispo for jogging enthusiasts, hikers, and families. This beautiful San Luis Obispo suburb is located close to downtown and offers easy access to Madonna Mountain and Bishop's Peak. You'll enjoy exploring the hiking trails in your neighborhood and the kids can play at the local playground.
Why is Ferrini Heights one of the best neighborhoods in San Luis Obispo? You can walk almost everywhere! You'll be right next to the Bishop Park Elementary School to walk the kids to school every day. You can also walk to the Foothill Plaza shopping center, the Sierra Vista Regional Medical Center, and Throop Park. Downtown SLO is just a 10-minute walk.
Ferrini Heights has a diverse housing market too. There are plenty of smaller, affordable homes under $500k but you'll find luxury estates and beautiful, historic architecture as you get closer to Bishop's Peak. Most of the homes in the neighborhood are bungalows.
San Luis Obispo Neighborhood Map
As you can see, SLO is home to a diverse range of communities you'll love to explore. Every San Luis Obispo neighborhood has something great to offer, whether it's walking distance to schools and restaurants, an exciting nightlife, or great parks and hiking trails. Once you've chosen the best place to live in San Luis Obispo, call the top-rated San Luis Obispo movers at Mentors Moving for an unparalleled moving experience without the stress and hassle!