Visiting Tempe or Phoenix, AZ? Papago Park should be at the top of your list of things to do in the Phoenix area! This sprawling city park is shared by the cities of Phoenix and Tempe and designated a Phoenix Point of Pride. It boasts nearly 1,500 acres of desert landscapes, hiking trails, historic sites, lakes, and recreational activities.
Tee off at the Papago Golf Club, learn about the history of firefighting at the Hall of Flame Museum, visit hundreds of animals at the Phoenix Zoo, and marvel at the plants that make up the Sonoran Desert landscape at the Desert Botanical Garden – all just minutes from downtown Phoenix!
This complete guide covers everything to see and do at Papago Park Arizona plus insider tips, hours, and where to park.
Papago Park Phoenix Overview
Papago Park Arizona covers 1,200 acres in Phoenix plus 296 acres in Tempe. The smaller Tempe section is referred to as "Tempe Papago Park" or "Papago Park in Tempe."
The Papago Arizona urban park is famous for its geological formations and giant saguaro cactus as well as its many amenities and attractions. You'll find striking red sandstone formations throughout the park, the most famous of which is Hole-in-the-Rock.
View this post on Instagram
Papago Park has been many things over the past 150 years. Once a reservation for the Maricopa and Pima tribes, it was divided between Tempe, the state of Arizona, and the Water Users Association (now the Salt River Project). It became the site of a bass hatchery in 1932 as a Great Depression Works Progress Administration (WPA) project and had much success. The hatchery ran until 1959.
Hunt's Tomb in Papago Park is the park's main historic site. This white pyramid tomb was built by George W.P. Hunt, the first governor of Arizona, for his wife. He was also entombed there along with their daughter.
Papago Park was a POW camp during WWII with up to 3,100 prisoners of war. In 1942, it was the site of the Great Papago Escape, the largest WWII prison camp escape in the U.S. It was also a VA hospital in the late 1940s then a facility for the Army Reserve.
In 1959, the state sold its portion to Phoenix which leased the closed hatchery grounds to the Arizona Zoological Society a few years later to establish the Phoenix Zoo. In 1963, the city of Phoenix built an 18-hole championship golf course, now one of two golf courses in the park.
Where Is Papago Park? | Location & Parking
Papago Park is minutes from downtown Phoenix and across Tempe Town Lake from downtown Tempe. It's mostly located in Camelback East Village, also known as the East Side or East Phoenix, one of 15 villages in Phoenix, with a portion in Tempe, AZ.
Papago Park, Arizona is easy to reach from downtown Phoenix via AZ-202 or via S Mill Avenue from downtown Tempe.
You can also get to Papago Park using public transportation. The park is served by Valley Metro bus routes 3 (Van Buren St) and 56 (Priest Dr). There are stops at the Phoenix Zoo, main Papago Park entrance, the Desert Botanical Garden, and other main attractions. The closest Valley Metro Rail stops are Center Pkwy & Washington and Priest Dr & Washington.
If you're arriving by car, you'll find many parking lots near major trailheads and attractions. The Botanical Garden parking lot has a Blink EV charging station!
Papago Park Map
You can download this detailed Papago Park map here.
Papago Park Trails
Papago Park hiking is an amazing experience for outdoor enthusiasts with unique rock formations to see and sweeping desert vistas. Before you go, remember that the Phoenix Mountains are open, undeveloped land with hazards to watch for. The Sonoran Desert is home to rattlesnakes and scorpions, both of which are sometimes spotted on Papago Park trails. Even less rare, but still possible, are Gila monster sightings. In both cases, keep your distance from these venomous desert inhabitants. Gila monsters are shier than rattlesnakes, but both want to avoid you as much as you want to avoid them!
Wear boots, long pants, and watch where you walk to avoid dangers.
You may see people climbing the sloped rocks but be aware that hikers die every year in Papago Park after falling. Always be aware of ledges and keep your distance, no matter how tempting it is to get a great shot.
Most Papago Park hiking trails are smooth with easy elevation gain. The Galvin Parkway splits the park into west side trails and east side trails.
The 2.3-mile Double Butte Loop is the most popular west side trail with an easy path around a small and large butte.
The most famous path is the Hole in the Rock trail. Hole in the Rock in Phoenix is one of the region's most iconic rock formations and it offers the most scenic viewpoint.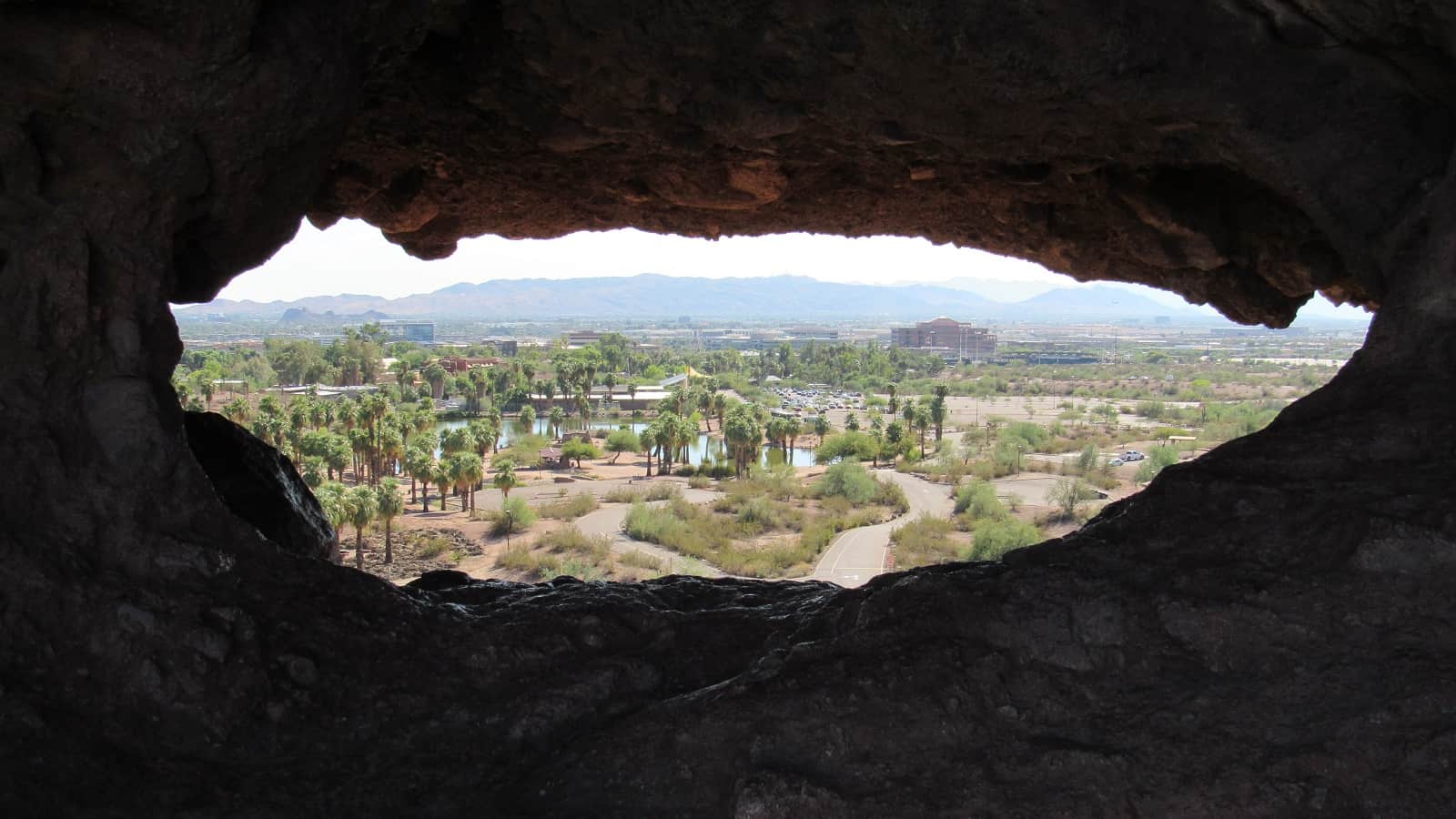 You'll find the Hole in the Rock Papago Park formation on the east side of the park with a hard-to-miss opening that looks over the lagoons below and the downtown skyline. It's the best place to enjoy a Papago Park sunset! The trail to the Hole in the Rock is just 1/10 of a mile with steps rising 200 feet in elevation. To find the trailhead, just follow the signs from the entrance and parking lot.
Papago hiking trails are accessible via gated roadways and parking areas with well-marked trailheads. The park is open from sunrise to sunset or 7 pm, whichever comes first, but the trails are open until 11 pm.
Papago Park Trails Map
If you're planning a Papago Park hike, make sure you know the name of the trail you're hiking, have a trail map with you, and know the type of terrain and where you're going. Don't forget to bring plenty of water!
Below, you can see the Papago hiking trails. You can also view this interactive Papago Park trails map here and download a map of Papago Park and trails to take with you.
Papago Park Recreation
Papago Park isn't just the most well-known Phoenix, Arizona park; it's an urban recreational center with golf, sports, hiking, and more. Here are the top recreational activities and amenities at Papago Park.
Golfing at Papago Park
Greater Phoenix is famous as one of America's top golf destinations with nearly 200 golf courses in the area. You'll find two of them right in Papago Park, one in Phoenix and one in Tempe.
Papago Golf Club is the more well-known Papago golf course and one of the most picturesque City of Phoenix golf courses. The course was designed by William Francis Bell who also designed the famous Torrey Pines in San Diego. Home of the Arizona State Sun Devils' golf team, it features the popular Lou Grubb Clubhouse and Lou's Bar and Grill, Evie's Pavilion, and it hosts the annual Papago Musical Festival every year! You can see Papago golf course tee times here. Be sure to get a Phoenix City Card for advanced tee time reservations and discounts!
View this post on Instagram
Rolling Hills Golf Course is a City of Tempe public golf course also located in Papago Park. The 18-hole executive golf course boasts scenic views of the desert terrain with a hilly landscape and tricky lies.
Papago Sports Complex
Papago Park, Phoenix is home to a sprawling sports complex with adult and youth sports leagues. There are two main complexes: the Papago Softball Complex and the Papago Baseball Complex. Both feature several lighted fields, concession facilities, and restrooms. You can learn more about softball leagues and registration here.
Papago Sports Complex, 1802 N 64th St, Phoenix, AZ 85008
Papago Archery Range
Whether you're an experienced archer or looking to get into the sport, join the Papago Archery Association and build your skill at the public Papago Park archery range. The club meets to practice Saturdays and Sundays. Non-club members must bring their own equipment including targets, arrows, and bows with no bales or stands available to the public.
Papago Archery Range, 6201 E Oak St, Phoenix, AZ 85008
View this post on Instagram
Beginner orienteers can get started with this fun sport at the Papago Park orienteering course! Just south of the archery range and part of the Papago Sports Complex, the course is open from sunrise to sunset. Learn more and find scheduled meetups from the Greater Phoenix Orienteering Club.
Papago Ponds Fishing
The Papago Ponds are three fishing ponds next to the Phoenix Zoo. The three Papago Park fishing ponds range from 7 to 11 feet deep and they're stocked with rainbow trout, bluegill, tilapia, carp, largemouth bass, channel catfish, sunfish, and white amur with daily bag limits. You can see the Arizona fish stocking schedule here.
View this post on Instagram
Arizona no longer offers Community Fishing licenses. Fishing at Papago Ponds requires a General Fishing license or Combo Hunt/Fish license. You can buy an Arizona fishing license online from the Arizona Game and Fish Department, from any AZGFD office, or from a licensed dealer. A General Fishing license is $37 for residents and $55 for non-residents ($5 for youth combo hunting and fishing).
No visit to Papago Park is complete without seeing the Phoenix Zoo! The PHX zoo is America's largest nonprofit, privately-owned zoo. Covering 125 acres of Papago Park, the zoo in Phoenix is home to about 3,000 animals and 2.5 miles of trails. There are four themed areas to see Phoenix Zoo animals:
Arizona Trail with the Sonoran pronghorn, coatis, bobcats, and the Mexican wolf
African Trail with the white rhino, Grevy's zebra, Reticulated and Masai giraffe, cheetahs, lions, and Arabian oryx
Tropics Trial with Asian elephants, Bornean orangutans, Galapagos tortoises, Indian rhino, and Sumatran tigers
Children's Trail with an up-close look at many small animals and a petting zoo
Phoenix Zoo tickets are $29.95 for adults 14 and up and $19.95 for kids 3 to 13. Arizona EBT recipients receive a $10 discount on up to four Phoenix Zoo tickets on Sundays.
Phoenix Zoo membership is $99/year for individuals, $129/year for two adults, and $199/year for families with up to 4 children under 18. Members receive early admission, discounts in the park, and free daytime admission!
View this post on Instagram
PHX Zoo Address & Hours
The Phoenix botanical garden in Papago Park is one of the best things to do in Phoenix and a Phoenix Point of Pride. Founded in 1939, the garden features over 50,000 plants over 4,000 taxa with 379 rare, endangered, or threatened species.
The garden is known for its massive collection of 4,000 agave plants and almost 14,000 cacti. About one-third of species are native to the region, but the garden also has South American, Baja Californian, and Australian collections.
Spend an afternoon wandering the butterfly pavilion and wildflower garden, marvel at blooming cacti and thriving displays of succulents, and gaze up at the iconic saguaro cacti, the largest cactus in the U.S. which can grow up to 78 feet tall!
View this post on Instagram
Desert Botanical Garden Hours & Admission
Phone: (480) 941-1225
Hours: Daily 8 am to 8 pm (7 am opening for members Wednesday & Sunday)
Desert Botanical Garden tickets: $24.95 to $29.95 general admission, $14.95 to $16.95 for youth 3-17, free admission for active military members
Desert Botanical Garden membership starts at $89/year for individuals and includes unlimited admission, discounts, members' nights, and reciprocal admission to 300+ gardens and conservatories
If you're relocating to Greater Phoenix, be prepared to spend many days at Papago Park admiring the stunning scenery, relaxing with a picnic by the lagoon, or visiting your favorite animals. Give us a call at Mentors Moving & Storage ahead of moving day for a free moving estimate from our five-star Phoenix movers. You'll be settled into your new home and enjoying everything Phoenix has to offer in no time!