Is Sun City a good place to retire? America's original active adult community is still going strong after 60 years and continues to rank as one of the best retirement communities in Arizona. Living in Sun City AZ offers affordable living, tons of housing options, and world-class amenities and as much excitement as you want.
Here's what you can expect from retirement in Sun City Arizona. If you decide to make Sun City your new home, our full-service senior movers can help you make a seamless and stress-free transition!
Where Is Sun City Arizona?
Sun City is a census-designated place (CDP) in Maricopa County, Arizona in the Phoenix metro area. It's 16 miles northwest of Phoenix and bordered by Sun City West, a sister community, and the cities of Peoria, El Mirage, Youngtown, and Surprise.
Valley Metro Bus routes 138 and 106 serve the Sun City retirement community.
Sun City AZ Population & Demographics
The population of Sun City is 39,931 according to the 2020 census, up from 37,499 in 2010. The community has a population density of 2,769 people per square mile. That's more than double the population density of neighboring Surprise. It's part of the Phoenix metro area which is home to 4.85 million people.
Sun City demographics:
Median household income: $46,201
Educational attainment: 26% bachelor's degree or higher
Median age: 72.4 years
Population 65 and older: 74.5%
Sex ratio: 58 females to 42 males
Veteran population: 19% (7,115)
Owner-occupied rate: 83%
Employed residents: 19%
The racial and ethnic composition is 91,4% non-Hispanic white, 4.5% Hispanic, 1.6% Black or African American, 0.9% Asian, 0.5% American Indian and Alaska Native, and 2.8% two or more races.
Overview of the Sun City Retirement Community in Arizona
When Sun City opened in 1960, it was the first retirement community of its kind. The community began with a shopping center, golf course, recreation center, and five model homes with an opening weekend that drew a crowd of more than 100,000 people. The developer, Del E. Webb, quickly expanded Sun City due to the huge demand for the then-new active adult lifestyle and many other Sun City Arizona retirement communities were later built.
View this post on Instagram
How many Sun Cities are there in Arizona? There are now five Arizona Sun Cities. Sun City West, the adjoining sister community of Sun City, was built in the late 1970s as the development of Sun City was winding down. Later came Sun City Grand (1990s), Sun City Anthem (1999), and Sun City Festival (2006). Sun City Grand has a lower age restriction of 45+.
Sun City Arizona has been described as "Disneyland for seniors" by one resident and it's easy to see why. Seven recreation centers, eight golf courses, two man-made lakes, social clubs, fun events, and gorgeous scenery combined with affordable retirement living and diverse housing: living in Sun City Arizona may be the best decision you'll ever make!
Sun City Age Restrictions & Other Rules
The Sun City retirement community in Arizona is managed by the Sun City HOA. Residents and property owners are subject to the Sun City CC&Rs. The many amenities are managed by the Recreation Centers of Sun City, Inc (RCSC) which has an elected board of directors who serve as volunteers.
Sun City AZ is an age-restricted, 55+ community. All residents must be 19 or older and at least one household member must be 55 or older. Spouses who do not meet the age limit are exempt, however, and allowed to remain in their home if their spouse passes away or must move out of the home for medical reasons.
Sun City Hospital, Healthcare & Churches
The Del Webb Sun City Arizona community has everything you need for convenience and a great quality of life including many houses of worship and healthcare options right in your neighborhood.
Banner Boswell Medical Center is the anchor of the Sun City healthcare network. There are also medical offices and medical supply stores throughout the community with primary care physicians and all types of specialties. There's even a NextCare Urgent Care center and over one dozen large medical care centers and practices.
After moving to Sun City AZ, you won't need to leave the neighborhood for spiritual services with more than one dozen congregations across many faiths including Jewish synagogues and Catholic, Episcopal, Methodist, Lutheran, Presbyterian, and Baptist churches.
View this post on Instagram
Amenities & Things to Do in Sun City AZ
Living in Sun City Arizona means endless possibilities every day! From swimming and tennis to hobbies, special interest clubs, bowling, and, of course, golfing, you'll find something to do every day after moving to Sun City.
You're also just minutes from the top attractions in Phoenix like Desert Diamond Casino – West Valley, just outside Sun City, Surprise Community Park, Heard Museum, the Phoenix Zoo, the Wildlife World Zoo, Aquarium & Safari Park, and the Desert Botanical Garden for unparalleled natural beauty.
The community's amenities are all managed by the Recreation Centers of Sun City. To take advantage of Sun City's RCSC amenities and activities, you must have a Member Card or Privilege Card. RCSC membership is available for property owners who are residents and at least 55 years old. Non-deeded spouses are exempt from the 55+ age requirement as long as they are residents. There is no charge for a Member Card aside from the low annual RCSC fee.
Non-owners who are living in Sun City AZ can purchase a Privilege Card. Qualifying non-owners, tenants, renters, lessees, and other occupants (including non-spouse underage owners) can purchase an annual Privilege Card for $262.50 per person (as of February 1, 2023). Short-term Privilege Cards for 30 to 60 days are $75 per month per person for snowbirds and short-term renters.
View this post on Instagram
There's a Sun City AZ recreation center at the heart of every neighborhood. These seven rec centers are major social gathering spots with billiards, darts, miniature golf, fitness centers, social halls, swimming pools, and much more.
There are seven recreation centers in Sun City:
Bell Recreation Center
Fairway Recreation Center
Lakeview Recreation Center
Marinette Recreation Center
Mountain View Recreation Center
Oakmont Recreation Center
Sun Dial Recreation Center
The newest facility, Grand Center, opened in 2020 to provide dedicated club spaces. The center has a greenhouse for the Garden Club, display space, lab and studio areas, an archery range, and more.
Sun City Golfing
Sun City golf courses are renowned and a major reason it remains one of the best 55 and older communities in Arizona. There are eight golf courses in Sun City AZ: five championship and three executive courses covering 1,100 acres.
Courses include:
North Golf Course
South Golf Course
Lakes West Golf Course
Lakes East Golf Course
Riverview Golf Course
Willowcreek Golf Course
Willowbrook Golf Course
Quail Run Golf Course
An annual golf pass with no fees is $1,550 for all courses or $1,375 for executive courses. The annual golf pass is reduced to $800 ($625/executive) with surcharges of $3 to $7. Daily green fees start at $12.50 for 9 holes at executive courses and vary by season and status.
View this post on Instagram
Other Sun City Amenities
Sun Bowl Amphitheatre and Sun Bowl for live performances
Two Sun City bowling centers with full-service restaurants (Bell Lanes and Lakeview Lanes). Bowling rates are $2.70 per game for RCSC cardholders and $3.15 for guests
33-acre Viewpoint Lake with fishing and paddle boats
130+ hobby, social, and special interest clubs ranging from woodworking and ceramics to dance, photography, dog owners, and gardening
Activities and special events including weekly concerts at the Sun Bowl and Sundial Auditorium, gourmet food vendors, car shows, farmers markets, and holiday celebrations
4 lawn bowling locations
Shopping in Sun City
There are nearly one dozen shopping centers in the Phoenix Sun City retirement community plus many nearby shopping options including Safeway, Costco, and Walmart. Many shopping centers include medical offices, pharmacies, and banks to make Sun City living as convenient as possible.
Major shopping destinations include:
Thunderbird Plaza Shopping Center with dermatologists, internal medicine offices, gastroenterologists, dental offices, CVS, and Family Dollar
Sun Shadow Square Plaza with dining options, a beauty salon, pet supplies and grooming, and shops including a fabric store and Tuesday Morning
Bell Camino Center anchored by Starbucks and Safeway
Kings Inn Center with restaurants, Fry's Food Stores, and service providers
Sun City Neighborhoods to Explore
There are dozens of unique retirement communities in Sun City AZ that make it easy to decide how you want to enjoy your golden years. Here are just some of the most popular complexes and neighborhoods in the community.
Built in the late 1980s, El Dorado is the most luxurious Sun City Arizona retirement community with sizable HOA fees between $1,500 and $2,000 per month. The HOA fee includes one meal per day, weekly cleaning and linen change, assigned parking, and washer/dryer usage. El Dorado of Sun City offers one- and two-bedroom condos usually priced below $85,000 for one-bedroom units and in the mid-$200s for two-bedroom homes. RCSC membership is included with ownership.
This 3-story, 100-unit condo building sits on seven acres of landscaped grounds with 1- and 2-bedroom units from 832 to 1,638 square feet. Owners receive an RCSC Member Card with access to a heated pool and spa and gated entry to assigned, covered parking and storage. Built in 1985, it's one of the newest developments in Sun City. Two-bedroom condos usually sell between $280,000 to $320,000 with HOA fees around $400 per month.
Fairway Court West
Built in 1963, Fairway Court West is a gorgeous community of patio homes, many overlooking the South Golf Course and walking distance to the Fairway Recreation Center. Two-bedroom homes are usually priced between $170,000 and $210,000 with around 1,200 square feet of living space. HOA fees are $250 to $300 per month.
Sun City Unit 43
This Sun City neighborhood of single-family detached homes is encircled by the Willow Creek Golf Course with many homes offering fairway views. Single-story, 3-bedroom homes usually sell in the mid-$300s to $400s with no HOA fees to worry about.
Sun City Assisted Living & Memory Care
There are several options for assisted living and continuing care while living in Sun City Arizona. Here are some of the best.
The Palms at Sun City: Independent and assisted living with discounted Sun City Rec Center membership, spacious homes, prepared meals, and 40+ social and recreational activities every week.
Royal Oaks – A Lifecare Community: villa and apartment living with independent and assisted living, memory care, and rehabilitative care and amenities including the Evergreen Fitness Center, musical performances, woodworking shop, art gallery, and other amenities
The Woodmark at Sun City: The Woodmark is a Pacifica Senior Living community with independent, assisted living, and memory care plus resort-style amenities and studio, one-, and two-bedroom apartments.
Senior Apartments in Sun City AZ
Not interested in buying? You'll find many Sun City senior apartments that put all the amenities of Sun City at your fingertips with the flexibility of renting.
Sun Valley Lodge Retirement Community: This nonprofit offers a continuum of care with an award-winning meal program, a park-like setting, and daily activities.
The Place at the Fountains at Sun City: Upscale apartments feature walk-in closets and private balconies and patios. The Place at the Fountains is pet-friendly with no weight or breed restrictions.
Sun City Arizona Homes for Sale, Apartments & Rentals
There are many types of Sun City homes for sale and rent to fit your budget and lifestyle.
Single-family detached homes: You'll have a private front and back yard with a garage or attached carport. All home maintenance is your responsibility with no additional HOA fees.
Gemini twin homes: This is a unique term to Arizona and refers to a single unique in what most markets call a duplex. Gemini twin homes have their own HOAs and they vary quite a bit in terms of what's covered, although landscaping is typically included.
Patio homes: These single-level homes have one or more shared walls and feature a back patio. Most are set up in buildings with 2-4 homes per building. Patio home communities have their own HOAs.
Apartment-style condos: These condos are in multi-level buildings like apartments, but units are individually owned. Each community has a separate HOA that usually covers common area and exterior maintenance and roof replacement.
Garden apartments: These are ground-level garden apartments in low-rise buildings, usually with shaded balconies and patios. Garden apartment complexes usually have a park-like setting with footpaths and landscaping. Each complex has its own HOA.
There's a huge variety of options for home buyers, but be aware that there is no new construction in Sun City. Most complexes and homes were built between 1960 and 1978 with some newer options, but that means Sun City remains one of the most affordable retirement communities in Arizona with options for every budget. You'll find stunning remodeled homes and more affordable properties ready to be renovated to your tastes.
Most homes in Sun City Arizona are two-bedroom, two-bath homes with two-car garages, but there are many one-bedroom units too. There are over 120 floor plans in the community in addition to the five styles of homes ranging from 625 to more than 3,000 square feet!
Sun City Senior Living Options
Along with a variety of home styles and options for renters, Sun City AZ retirement communities offer several senior living options. You can enjoy Sun City living at its best and rest easy knowing you can make the transition to assisted living or skilled nursing care if needed. Sun City housing options include:
Independent living
Assisted living
Continuum of care
Memory care
Skilled nursing care
Rehabilitative care
View this post on Instagram
HOAs & Fees that Apply to Houses for Sale in Sun City AZ
All Sun City Arizona homes for sale are subject to the following:
Preservation and improvement fee of $4,000. This fee is assessed whenever Sun City property is purchased, acquired, transferred, gifted, inherited, or there is any change in ownership if the original payor of the fee no longer maintains a majority ownership interest of the property.
Recreational Centers of Sun City, Inc. (RCSC) fees. The annual property assessment is currently $496 per property.
Sun City CC&Rs. These covenants, conditions, and restrictions are attached to all properties in Sun City, including single-family homes and condos. You can view the CC&Rs at the Sun City HOA website.
Whether you will pay HOA fees in addition to the annual RCSC fee depends on the type of home you buy. Single-family detached homes do not have HOAs, but garden apartments, Gemini Twin homes, patio homes, and condos in Sun City all have their own HOAs. These Sun City HOA fees vary by complex and come with their own CC&Rs you will be bound by. The services and maintenance included with the HOA fees also vary.
Special rules apply to Sun City Rancho Estates community. This development of single-family homes features one-acre or larger lots with horse privileges. Only some homes in the Rancho Estates section have access to Sun City amenities, but all homes are eligible for RCSC amenities by paying a one-time access fee.
Cost of Living in Sun City AZ – Fees, Home Prices & More
The Sun City cost of living index is 94.9 compared to 102 for Arizona. That's 5% below the national average. The cost of living is incredibly affordable thanks to low property taxes and affordable home options. Along with Sun City West, it's one of just two communities in Arizona grandfathered in with no school district taxes.
Here's what you can expect from Sun City living expenses.
Sun City median home price: $285,000 ($210,000 for condos for sale in Sun City AZ)
Sun City property taxes: Usually under $1,500 (below $1,000 for many condos)
Sales tax: 6.3%
Sun City Arizona utilities: $155-$180 per month (all-electric, 1,500-square-foot home)
Sun City AZ water and sewer: $45 to $55 per month
Annual property assessment: $496 per property per year
Privilege card for non-owners: $248 per person per year ($75/month/person for short-term privileges)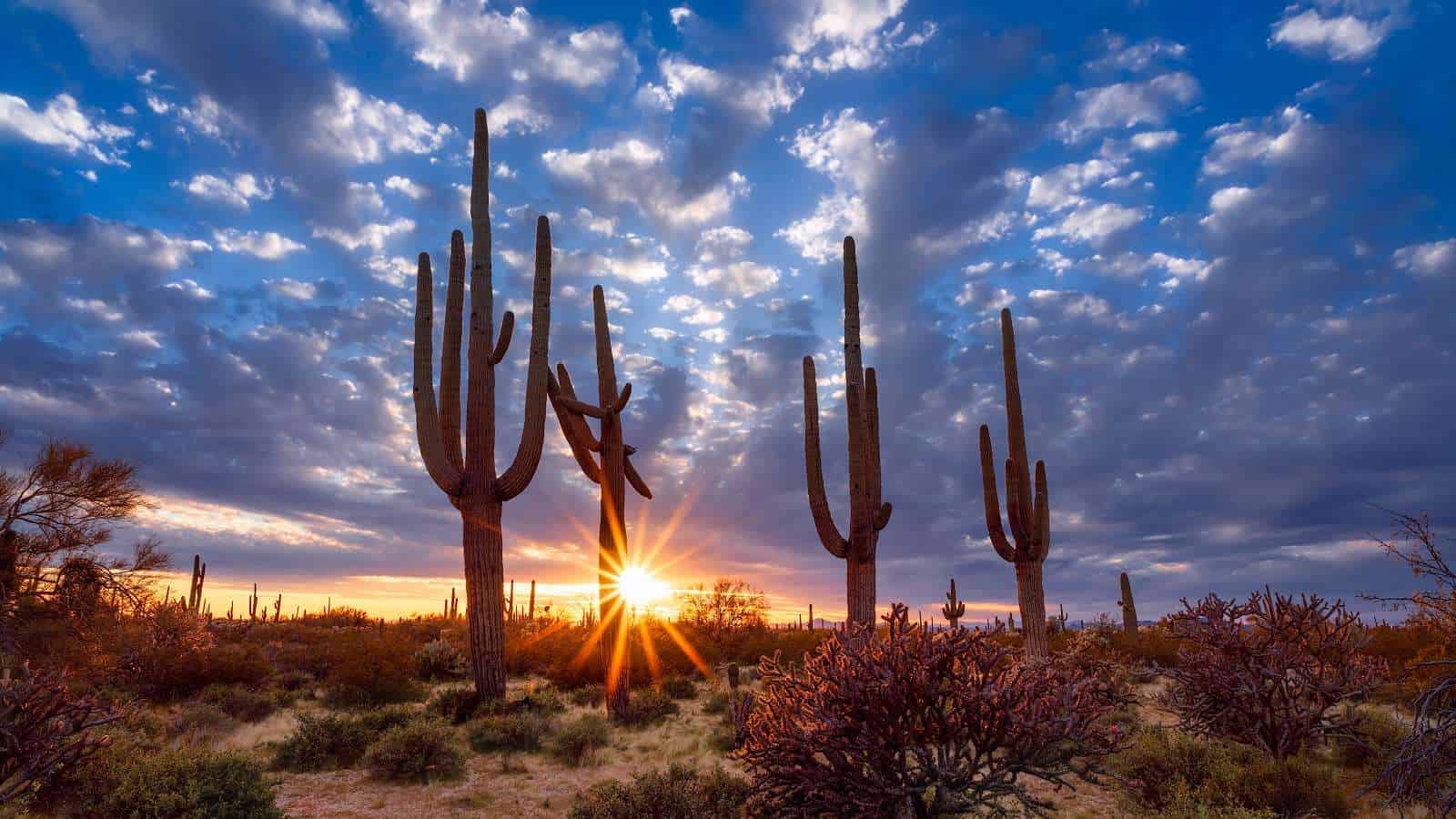 Sun City Arizona Weather & Climate
It's no secret that the mild climate is a big reason so many people retire in Arizona. The Sun City desert climate comes with low humidity, mild winters, and very hot, dry summers. That means you can enjoy the outdoors year-round with golfing and swimming even in the summer.
The Sun City Arizona average temperature is a low of 63°F and an average high of 87°F during the day. Like many desert regions, nighttime temperatures can be chilly. During coldest month of winter, the average overnight temperature is 43°F but you'll enjoy an average winter daytime high of 65°F.
Just keep in mind that Sun City AZ summer weather takes some adjustment and can be dangerous for seniors who do not adjust as well to extreme temperatures. Daily high temperatures in the summer are around 106°F and rarely drop below 100 degrees – but the temperature can get much higher. Summers bring a dry heat that's easier to tolerate than the heat of the South or Midwest, but there are more than 50 dangerous heat days per year on average in the Phoenix area.
The Arizona Department of Health Services and the CDC offer tips for older adults to stay safe in the Arizona heat and prevent heat stress and illness. Plan to wear loose-fitting clothing and sunscreen when you go outside and drink plenty of water, especially before and during physical activity, even if you do not feel thirsty.
Sun City Arizona Information
Sun City County: Maricopa
Area: 14.42 sq mi
Sun City zip codes: 85300 to 85399
Area code: 623
Elevation: 1,142
Time zone: UTC-7 (MST)
Closest airport to Sun City: Phoenix Sky Harbor International Airport (PHX), 26 mi
Sun City AZ Map
Are you ready for the excitement of Sun City retirement? Mentors Moving & Storage is here to help. Give our full-service Sun City movers a call today to get started with a free, personalized moving quote.