The spectacular city of Phoenix, AZ is known for its premium resorts, incredible desert landscapes, professional-level golf courses, and its comfortable weather that lasts most of the year. Residents living in Phoenix call it their desert paradise and love the many amenities that come with it.
Located about halfway between Tucson to the southeast and Flagstaff to the north, Phoenix is the state capital of Arizona. It is a part of the Sonoran Desert, which stands among the most green and lush deserts in the Americas. Originally settled in 1867, Phoenix was later incorporated as a city in February 1881 and has never looked back.
Lovingly known by nicknames such as Silicon Desert, Valley of the Sun, or simply "The Valley", Phoenix is surrounded by mountains on all sides. It offers a great place to live with beautiful neighborhoods causing more people than ever to decide that moving to Phoenix is right for them.
A large number of notable people have lived in the city of Phoenix over the years such as singer Stevie Nicks, singer Chester Bennington, actor Dick Van Dyke, actress Emma Stone, author Todd McFarlane, and actor Frankie Muniz. Many professional athletes have also resided in Phoenix including NBA star Tom Chambers, World Series hero Luis Gonzalez, MLB star pitcher Randy Johnson, as well as Arizona Cardinals player and war veteran Pat Tillman. Jerry Colangelo, who founded the Phoenix Suns and the Arizona Diamondbacks, also lives in Phoenix.
There are so many interesting facts to learn about Phoenix including that it is one of the few parts of the country that doesn't observe Daylight Savings Time.
1. People of Phoenix, AZ – Population & Demographics
This area's growth rate has been incredible as it has seen an average of 210,000 people relocating to Phoenix every decade since the 1960s. The current Phoenix population is 1,680,988 residents with a median age of 33 years old, making it the 5th most populated city in the United States.
Phoenix demographics also show how the city has grown more diverse over the years. The population is presently made up of about 44% Caucasian, 42% Hispanic or Latino, 7% Black or African American, and 4% Asian.
When looking at the gender ratio in Phoenix, men and women are almost evenly split though females have a slight advantage, making up 50.19%. While men make up the other 49.81%. A large number of households in Phoenix are married couples with about 41%. The Phoenix population has an ancestry of 11% German, 8% Irish, 6% English, 4% Italian, 3% Polish, and others.
The median household income in Phoenix is $60,931, which is lower than the national average. This amount doesn't necessarily reflect the amount of opportunity for higher-paying jobs that are available within this beautiful city. Nearly 20% of people residing in Phoenix make more than $100,000 per year.
2. Cost of Living in Phoenix
Frequently recognized as an affordable place to live, the cost of living in Phoenix is about 1% lower than the state average and a few percent lower than the national average as well. One of the few expenses that tend to be higher is local utilities due to hot summers and frequent air conditioning usage. The average Phoenix utility bill is about $199.93 when you consider electric, gas, and water services.
The other expense that is a bit more than average is the Phoenix housing market although it is only about 3.8% higher. On the other hand, standard expenses like healthcare and the average cost of groceries in Phoenix are slightly less than the national average.
Phoenix Typical Living Expenses
According to Numbeo, these are approximate amounts you can expect to pay in Phoenix for some of the usual expenses:
Meal inexpensive restaurant, $12

Meal for 2 People Mid-range Restaurant, $60

Milk (regular), $2.74

Loaf of Fresh White Bread, $2.31

Rice, $1.79

 Eggs, $2.13

Local cheese, $4.88

Chicken filets, $3.74

Beef round, $4.76

Basic monthly utilities, $199.93

Internet $76
Phoenix Real Estate Market
The average listing price of a home in Phoenix is $350,000, but the median sales price is closer to around $325,000. The average down payment for a home is 12.7% as the median sale price per square foot comes out to about $197. Homes usually get numerous offers and enter escrow in about 31 days on average.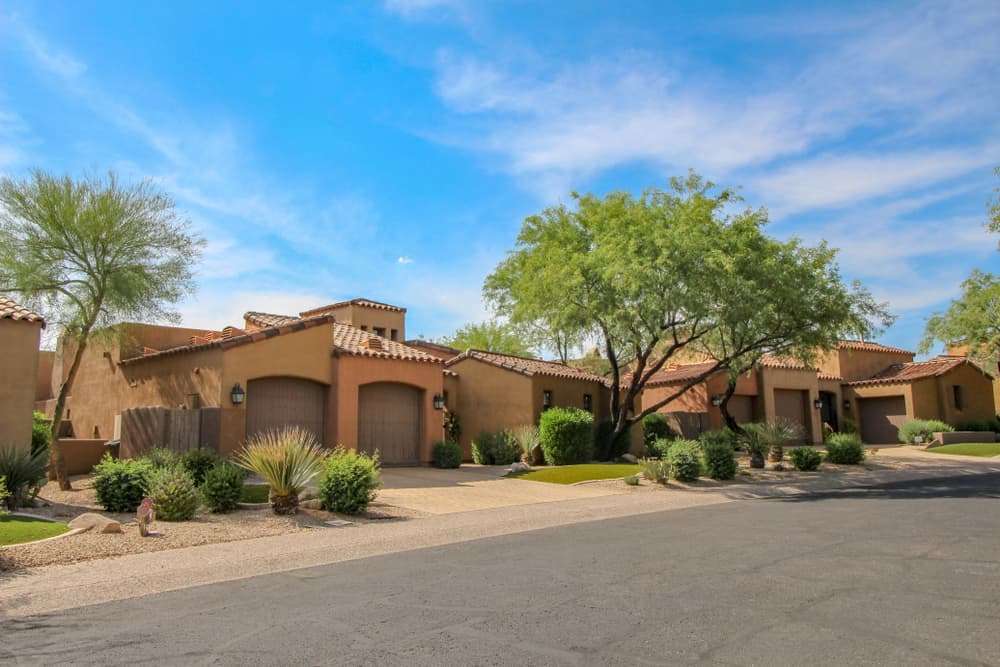 The homeownership rate in Phoenix is about 54%. Experts have found that Phoenix housing market prices have risen by 13.8% over the last 12 months and they predict these amounts will go up an additional 9.5% in the next year. Phoenix, AZ homes for sale range from small, affordable mobile homes up to massive estates that can reach tens of millions of dollars.
With the remaining 46% of the city's population choosing to lease instead, there are also a wide variety of options available if you don't want to purchase property yet. The average price of rent in Phoenix is about $1,333 per month, an amount that has increased by about 5.5% in the last year. This balances out between $1,184 per month for a one-bedroom apartment and $1,437 per month for a two-bedroom location.
Some of the more affordable areas to rent in Phoenix include South Mountain, Encanto, Maryvale, North Mountain, and Alhambra. On the other hand, some of the most expensive neighborhoods in Phoenix are Desert View, Ahwatukee Foothills, North Gateway, and Paradise Valley.
Income, Sales, & Property Taxes in Phoenix
The Phoenix income tax rate rate ranges from 2.59% to 4.5%. Your income tax rate in Phoenix will vary depending on how much money you bring in every year.
Per TaxJar, the Phoenix sales tax is ranked the 11th highest out of the 50 United States. The sales tax rates in the area are as follow:
Arizona State tax rate 5.600%

Maricopa County tax rate 0.700%

Phoenix tax rate 2.300%

Total sales tax rate 8.600%
If you are planning on buying a home in the area, you'll also need to consider the Phoenix property tax that you'll be charged. Luckily, homeowners in the area enjoy a rate that is lower than both Arizona and national averages:
Phoenix property tax rate 0.640%

Arizona property tax rate 0.724%

National property tax rate 1.080%
For example, if you purchased a home for $350,000, then the Phoenix property taxes would be about $2,240 per year.
3. Phoenix Neighborhoods
Before moving to Phoenix, one of the most important things for you to decide is which community you'll live in. The city offers many great neighborhoods that fit a multitude of lifestyles and other needs.
Spanning a large area of 517 square miles, Phoenix is located in the heart of Maricopa County in Arizona.
Local Phoenix area codes include 602, 480, or 623.
Top Neighborhoods in Phoenix
Desert View (population: 42,857) –

Safest neighborhood in Phoenix.

Find homes for sale in Desert View
South Mountain (population: 111,315) –

Affordable Phoenix housing market.

Find homes for sale in South Mountain
Laveen (population: 48,464) –

Access to great local amenities.

Find homes for sale in Laveen
Ahwatukee Foothills (population: 77,288) –

One of the most highly-rated neighborhoods in Phoenix by its residents.

Find homes for sale in Ahwatukee Foothills
Camelback East (population: 134,937) –

Fun things to do close by.

Find homes for sale in Camelback East
Paradise Valley (population: 166,927) –

Among the most affluent communities in the Phoenix Metropolitan area.

Find homes for sale in Paradise Valley
Maryvale (population: 204,435) –

A comfortable and affordable place to live in Phoenix.

Find homes for sale in Maryvale

Other local Phoenix neighborhoods include Alhambra, Central City, Deer Valley, Encanto, Estrella, Garden Lakes, North Gateway, North Mountain, North Scottsdale, Rio Vista, and South Scottsdale.
Map of the Best Phoenix Neighborhoods
4. Things to Do in Phoenix
The massively popular area of Phoenix offers a huge selection of amenities and fun things to do. You'll find a great spread of unique landmarks, exciting destinations, entertaining venues, interesting museums, and so much more. Before relocating to Phoenix, find out all the intriguing places to visit once you get there.
Top Attractions
View this post on Instagram
Entertainment & Arts
Museums
Parks & Outdoors
Shopping
Desert Ridge Marketplace

– Considered one of the best places to shop in Phoenix, this hot spot has bars, restaurants, a movie theater, and loads of fun stores.

Biltmore Fashion Park

– This high-end shopping destination provides access to upscale retail stores as well as nice restaurants.

Shops at Norterra

– See a movie, go shopping, or simply walk the clean streets of this beautiful outdoor mall in Phoenix.

Other convenient shopping locations include Walgreens, Target, Walmart, Dollar Tree, Food City, and many more.
Map of Phoenix Activities
5. Restaurants in Phoenix
Residents living in Phoenix enjoy a vast array of amazing places to eat located all over the city. Whether you want Italian food, Mexican cuisine, Thai food, sushi, or something else, there are more than enough delicious Phoenix restaurants to choose from. A few of the top spots to eat in Phoenix include:
Steak 44

– An upscale steakhouse boasting a menu filled with crab, lobster, oysters, poke, shrimp, salmon, sea bass, pork chops, and of course, steak.
View this post on Instagram
Chelsea's Kitchen

– With its menu of American comfort food, this industrial-chic restaurant in Phoenix offers guests soups, salads, sandwiches, tacos, platters, and burgers.

The Stockyards Steakhouse

– Known for its huge variety of beef dishes, this steakhouse also provides diners with lobster tails, elk, pork, burgers, prime rib, and seafood.
Map of Places to Eat in Phoenix
6. Phoenix Utilities/Driver License Change of Address
One of the most important aspects of the moving to Phoenix process is making sure that you schedule the utilities to be activated in your name at the new location. You'll want to make sure you reach out to all the relevant Phoenix utility providers to get your lights, water, and other essentials turned on for your arrival. This will ensure you're not unloading your belongings into a dark home without running water.
Electric (Based on Where You Live)
Gas
Water
Trash
Internet
Change of Address Information
Another important thing you'll want to take care of along with your utilities is changing your address in Phoenix with the MVD. This way you'll get all of your bills and other mail at the new home or apartment. Arizona state law requires that you complete this process within 10 days of relocating to Phoenix.
7. Phoenix Sports
The city of Phoenix is home to sports franchises within all four of the professional major sports leagues. There are only 13 other cities in the United States that also have teams in all four of these sports.
Sports teams in Phoenix include:
Arizona Coyotes (NHL):

The Coyotes have made the playoffs nine times and won a Division title once.

Arizona Diamondbacks (MLB):

The D'Backs won the World Series in 2001.

Phoenix Suns (NBA):

The Suns played in the 1976 and 1993 NBA Finals.

Arizona Cardinals (NFL):

The Cardinals played against the Pittsburgh Steelers in Super Bowl XLIII back in 2008.
Along with these professional sports teams, Phoenix also hosts the massively popular Waste Management Open golf tournament every year. This event consistently attracts as much as 500,000 spectators, more than any other stop on the PGA Tour.
Phoenix is also the most recognized spot for Major League Baseball's spring training games with 15 teams participating in the Cactus League events every February to March.
8. Transportation
The average commute time in Phoenix is about 24 minutes in either direction. While most people living in Phoenix own a vehicle, the city has a reliable public transportation system as well. From light rails and buses to other local programs, you'll never have a hard time getting around the Valley.
Phoenix is served by Valley Metro, which organizes local transportation for the light rail as well as the city bus routes. Convenient stops can be found all over the area whether you need to get to work or simply do some grocery shopping.
Rideshare programs are also readily available as an alternative form of transportation in Phoenix. You have the choice between using either Uber or Lyft, both of which have a strong presence in the metropolitan area. You can even take advantage of local bike share programs like Grid if you don't need to go all that far.
9. Crime
Phoenix ranks as the 31st safest city in the state of Arizona. You'll quickly find a city this size will have both good and bad areas, making it important that you do your research before relocating to Phoenix.
Statistics show that crime rates in Phoenix are about 61% higher than the national average. Per the FBI, locals residing in Phoenix have a 1 in 143 chance of becoming a victim of a violent crime, which includes murder, rape, robbery, or aggravated assault. The Phoenix murder rate is 7.8 per 100,000 people with a total of 131 murders being committed in the year 2019. This is slightly higher than the national average of 5.
Additionally, there are about 3,315 property crimes in Phoenix per 100,000 people. You can always find the most up-to-date statistics on this Phoenix crime map, which is provided by the City of Phoenix government site.
As you are looking for the best places to live in Phoenix, you'll want to see what the crime looks like in that community. For example, the crime rate in downtown Phoenix is about 303% higher than the national average. But on the other hand, the beautiful Phoenix neighborhood of Desert View has a crime rate that is 48% lower than the national average.
10. Economy
While Phoenix currently has an unemployment rate of about 5.9%, the area continues to see huge economic growth year after year. The state of Arizona's gross domestic product (GDP) increased by 3.1% from 2018 to 2019, reaching an incredible all-time high of $265 billion.
Some of the largest companies contributing to the local Phoenix economy include:
PetSmart (53,000 employees)

Banner Health

Phoenix (50,000 employees)

ON Semiconductor (36,000 employees)

Freeport-McMoRan (30,000 employees)
The top industries that make the most significant impact on the economy in Phoenix are:
Real Estate ($41.96 billion)

Manufacturing ($19.91 billion)

Health Care ($19.78 billion)

Finance & Insurance ($19.71 billion)

Retail ($18.64 billion)
11. Healthcare
People living in Phoenix are served by nearly 60 hospitals and medical centers conveniently spread across the city. A few of the most highly-rated medical institutions in Phoenix include:
Mayo Clinic

(ranked #16 in

U.S. News Best Hospitals Honor Roll

and #1 Hospital in the state of Arizona)

Banner University Medical Center

(largest hospital in the state of Arizona with 712 beds)

Phoenix Children's Hospital

(ranked among top 20 hospitals in the U.S. for neonatal care and among the top 35 for pediatric cancer)

St. Joseph's Hospital and Medical Center

(Dignity Health, nationally recognized center for premier medical education and research)

HonorHealth Hospitals
12. Jobs in Phoenix
As the economy in Arizona improves, the more Phoenix jobs you'll be able to find around town. The average salary in Phoenix is $67,000, a number that appears to be rising by as much as 4% per year.
Some of the top jobs in Phoenix come in the medical field including registered nurses, certified nurse assistants, and medical assistants. The city also has many other opportunities with other people filling roles as business managers, salespeople, administrative support staff, construction workers, and more. The City of Phoenix is a major employer that provides jobs to many local residents.
Best Places to Work in Phoenix
Knight Transportation

ON Semiconductor

SRP

HonorHealth

Chase

APS

Intel
13. Phoenix Schools
Some of the best schools in the entire country can be found right here in the Phoenix valley. From grade school all the way up to university, local students have a great opportunity to get a quality education from beginning to end.
Elementary, Middle, & High Schools
There are about 293,801 children between the ages of 5 and 17 years old living in Phoenix, adding up to about 18% of the city's population. 
Young Phoenix students attend campuses within a large number of local school districts such as:
Alhambra Elementary District

Paradise Valley Unified District

BASIS Schools

Laveen Elementary District

Arizona School For The Arts
Within each of these districts, parents will be happy to hear that top-rated programs are readily available for their children. Some of the top schools in Phoenix include:
Desert Trails Elementary School

Alhambra Traditional School

Vista Del Sur Traditional School

Great Hearts Academies – North Phoenix Prep

Arizona School for the Arts (ranked 13th top high school in Arizona)

Phoenix Union Bioscience High School

(ranked 14th high top school in Arizona)
Colleges
Whether teenagers are looking for the next step on their educational journey or adults are interested in taking college courses, there are some great universities in Phoenix to choose from. The best secondary schools around the city are:
Grand Canyon University

The University of Arizona College of Medicine-Phoenix

Arizona State University

(nearby in Tempe)
14. Weather & Climate in Phoenix
Living up to its nickname "Valley of the Sun", the city of Phoenix is well-known for its hot desert climate. Many locals residing in Phoenix joke that the city only has two seasons: summer and something in between autumn and winter. This is due to the extreme high temperatures experienced during a few summer months and the long spread of cool, mild temperatures the rest of the year.
The hottest month during a Phoenix summer comes in July with temperatures ranging from lows in the mid-80s to highs that can reach over 110°F at its peak. Alternatively, the coldest winter weather in Phoenix comes during December as it drops to lows in the mid-40s and highs in the upper 60s. Throughout the year, Phoenix only gets about 9 inches of total rainfall on average.
The best time to visit Phoenix is during the spring or the fall because of the comfortable temperatures and many fun things to do at that time. But if you can take the heat, summer remains one of the most popular times of the year for many activities around Phoenix as well.
Annual Climate in Phoenix
Number of sunny days in Phoenix:

On average, Phoenix has about 300 days of sunshine per year, making it the sunniest metropolitan area in the entire United States.

Annual rainfall in Phoenix:

The city of Phoenix only gets about 9 inches of annual rain, which is significantly lower than the United States average of 38 inches per year.

Annual snowfall in Phoenix:

You will basically never see it snow in Phoenix. The last time there was any significant snowfall in the Phoenix metro area was back on December 6, 1998.
Moving to Phoenix?
If you are considering relocating to Phoenix, this guide has all the information you'll need to determine whether it fits your lifestyle. Once you're ready to call this place home the professional Phoenix movers here at Mentors Moving are fully prepared to assist you! Call us today at (480) 376-1009 or complete the Request a Quote form for a free moving estimate!