Considering moving to Mesa, Arizona? The third largest city in Arizona and part of the Phoenix metro area, Mesa offers affordable living, beautiful scenery and parks, and great cultural attractions.
Before settling on Mesa, you may have an important question: what is the Mesa, AZ cost of living? How much does it cost to live in the city? This complete guide covers everything you want to know as a renter or homebuyer in Mesa.
Mesa Arizona Cost of Living Index (COLI)
What is the cost of living in Mesa, Arizona? There are many ways to measure the cost of living in Mesa, AZ. A good place to start is the cost of living index or COLI. This index compares the cost of basic services and goods in cities and metro areas to the national average.
The Mesa, AZ cost of living index is 103.9. That means Mesa is almost 4% more expensive than the national average and just 2% higher than the Arizona cost of living. Healthcare expenses are 7% below the national average, transportation and groceries are very close to average, and utilities are 6% over the U.S. average. The biggest factor making Mesa a slightly expensive place to live is housing. The Mesa housing index is 116.9.
Consumer Price Index (CPI)
The Consumer Price Index is published monthly by the Bureau of Labor Statistics. The CPI measures inflation by tracking average prices consumers pay in a metro area or region for goods and services.
The Phoenix-Mesa-Scottsdale Consumer Price Index was recently up 2.1% for the past two months and up 10.9% year-over-year. Food prices rose 8.2% and energy prices were up 29.6% year-over-year. A spike in gasoline prices was mostly responsible for the significant increase in energy prices.
Consumer Expenditure Survey
The BLS Consumer Expenditure Survey is another helpful tool for understanding the cost of living in Mesa, Arizona. This national survey is conducted by the Census Bureau and it collects data to calculate the CPI. Consumer Expenditure Surveys are helpful for understanding income and expenditures in metro areas.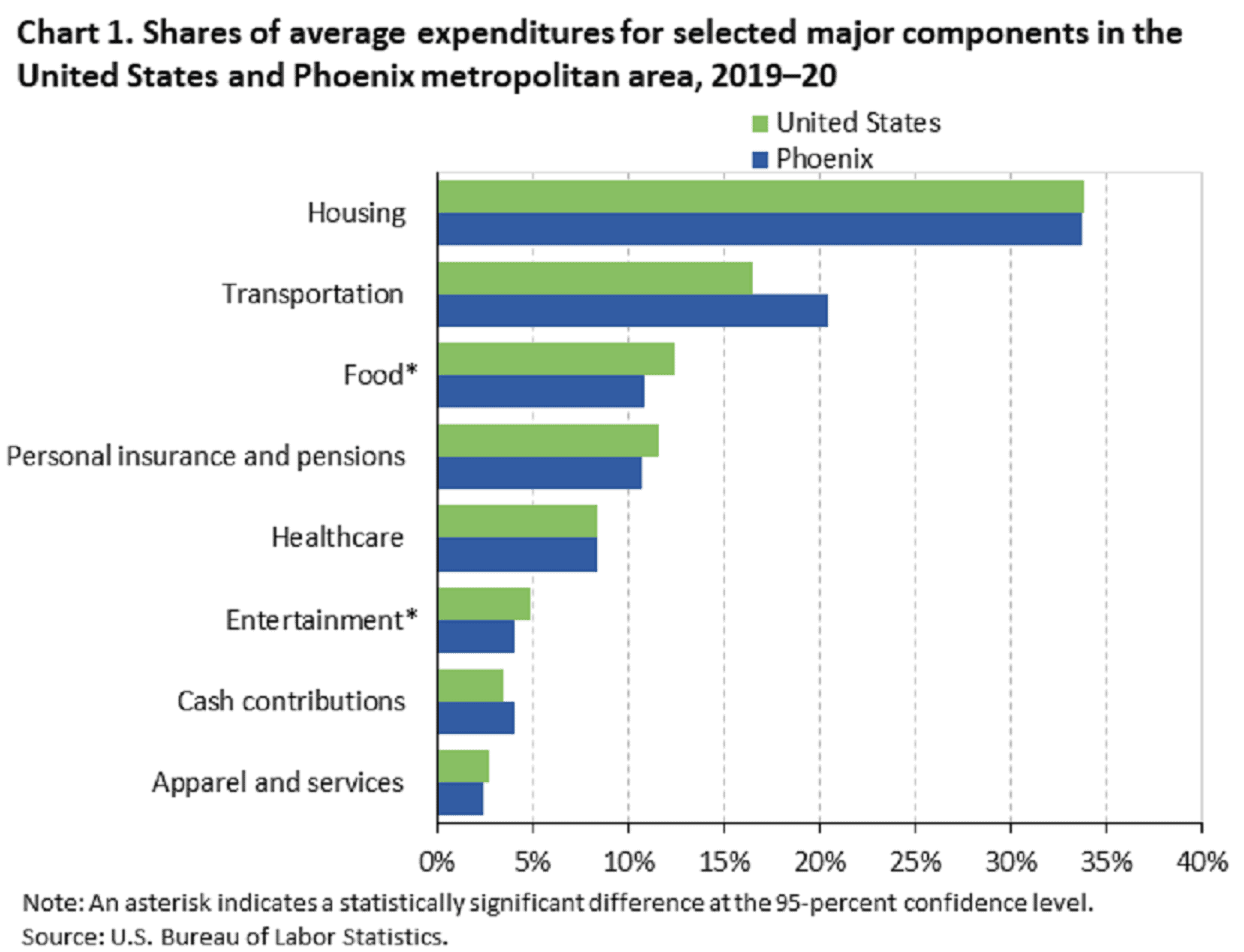 Here's what the average Mesa household spending of $62,466 per year looks like.
Housing: 33.8% ($21,094)
Transportation: 20.5% ($12,776)
Food: 10.8% ($3,739 on food at home, $2,998 on food away from home)
Personal insurance and pensions: 10.7%
Healthcare: 8.4%
Entertainment: 4.1%
Apparel and services: 2.5%
Average Mesa Household Budget | Family Budget Calculator
The Economic Policy Institute (EPI) offers a Family Budget Calculator that helps you estimate your cost of living in Mesa AZ based on your household size and type.
According to the calculator, the average household with two adults and two children would need $7,468 per month ($89,619) for a modest but comfortable lifestyle in the Mesa metro area. That breaks down to:
Childcare: $1,517
Housing: $1,251
Transportation: $1,195
Health care: $1,193
Taxes: $792
Food: $783
Other necessities: $737
EPI estimates the average family spends $18,204 in childcare costs alone for two children – more than a family would spend on housing.
For a household with two adults and no children, the average Mesa cost of living drops to $4,463 per month or $53,560.
You can look at the EPI methodology to understand how these figures are estimated and decide if they are accurate for you.
Cost of Groceries, Food, Gas & Household Items in Mesa
You can learn more about the average cost of living in Mesa, Arizona by comparing average prices for goods to what you pay now. Here are typical living expenses.
Steak (1 lb, ribeye): $13.76
Milk (half gallon): $1.82
Eggs (one dozen): $1.78
Potatoes (5 lb): $2.97
Bread (one loaf): $3.67
Chicken breast (1 lb): $4.00
Movie ticket: $10.16
Beer (6-pack, Heineken's): $9.51
Average cost of utilities in Mesa: $192.55
Housing Market – Mesa, Arizona Real Estate Market
Planning to buy a house? The Mesa, AZ real estate market is very competitive. Home prices in Mesa, Arizona have increased 28% year-over-year with 51% of homes selling above list price. In the competitive Mesa, Arizona housing environment, expect to compete against other buyers with multiple offers, waived contingencies, and offers above asking price.
The median home price in Mesa is $441,500 with a median of 25 days on market. This includes single-family homes, townhomes, and condos.
Median single-family home price: $465,000
Median price of a townhome: $316,000
Median price of Mesa, AZ condos: $276,000
Of course, home prices in Mesa, AZ also vary significantly by neighborhood.
Las Sendas, a prestigious master-planned country club community with about 7,500 people, has a median home price of $615,000.
Red Mountain Ranch is a master-planned community and country club in northeast Mesa with a median home price of $555,000.
Val Vista Lakes is an affluent lakefront community and one of the most affluent Mesa neighborhoods with a median home price of $540,000.
Power Ranch is a large, family-friendly community with single-family homes and several apartment complexes known for its amenities and high home prices. The median home price is $517,500.
Is It More Affordable to Rent or Buy in Mesa, Arizona?
It's more affordable to rent than buy a house in Mesa according to the 2022 Rental Affordability Report by ATTOM. This annual report uses BLS wage data, fair market rent data from HUD, and public sales data from ATTOM. It found owning a home is more affordable than renting in 58% of U.S. counties which means homeownership takes up a smaller share of wages.
In Mesa and the rest of Maricopa County, home prices are rising faster than rent.
You can also compare renting vs buying in Mesa by calculating the price-to-rent ratio. The lower the ratio, the more favorable the housing market is for homebuyers. The higher the ratio, the better the market is for renters.
Median Home Price ÷ Median Annual Rent = Price-to-Rent Ratio
The median home price in Mesa is $441,500. The average rent is $1,529 or $18,348 per year. 441,500 ÷ 18,348 = 24.06 price-to-rent ratio in Mesa.
In general, a price-to-rent ratio above 20 is considered high. That means by this metric, buying a house is more affordable than renting in Mesa.
Rental Market – Average Rent in Mesa AZ
Another way to explore the Mesa cost of living is considering rent prices. Is Mesa, Arizona affordable for renters? The average rent in Mesa, Arizona is $1,529 according to RentCafe. That's lower than the national average of $1,628 but up from $1,200 in March 2021 and about $950 in 2018. Of course, the neighborhood makes a big difference.
The most expensive neighborhoods in Mesa like Eastmark and Mountain Heights have average rent over $2,250. Several neighborhoods have average rent below $1,500 such as Rancho del Mar, Powell Estates, and Mesa Grande.
Mesa Housing Wage – How Much Do You Need to Earn to Afford Rent in Mesa AZ?
The Out of Reach report measures the gap between renters' wages and the cost of housing. The report uses the Housing Wage, or an estimate of the hourly wage a full-time worker must earn to afford a modest rental at the HUD Fair Market Rent (FMR) without exceeding 30% of their household income on rent.
On average, a full-time worker needs to earn $24.90 an hour to afford a two-bedroom rental in the U.S.
Here are the results for Arizona and Mesa from the Out of Reach report.
| | | |
| --- | --- | --- |
| HUD Fair Market Rent | Arizona | Phoenix-Mesa Metro |
| Studio | $847 | $933 |
| 1-Bedroom | $940 | $1,030 |
| 2-Bedroom | $1,160 | $1,251 |
| 3-Bedroom | $1,635 | $1,765 |
| 4-Bedroom | $1,871 | $2,010 |
| | | |
| --- | --- | --- |
| Housing Wage | Arizona | Phoenix-Mesa Metro |
| Average Renter Wage | $18.12 | $19.15 |
| 1-Bed Housing Wage | $18.07 | $19.85 |
| 2-Bed Housing Wage | $22.30 | $24.06 |
| 3-Bed Housing Wage | $31.44 | $33.94 |
You can use the RentCafe rent affordability calculator to determine how much you can afford and find apartments for rent in Mesa.
Mesa Affordable Housing Availability
The National Low Income Housing Coalition (NLIHC) educates and advocates for affordable housing. Their annual GAP report measures the availability of rental homes to extremely low-income households earning 30% or less of the area median income.
Arizona has just 26 available, affordable homes for every 100 extremely low income households and 49 affordable homes for every 100 very low income households. In the Mesa metro area, 91% of extremely low income renters are cost burdened and 79% have a severe cost burden.
Average Salary & Household Income in Mesa, Arizona
The BLS Consumer Expenditure Survey found the average household income of $81,216 for the Phoenix-Mesa metro area. That's a bit below the U.S. average household income of $83,599.
According to Payscale, the average salary in Mesa is $65,000 or $17.61 an hour. Wages recently trended upward 1.4%.
According to the BLS, the average weekly wage in Maricopa County is $1,226 compared to the U.S. average of $1,251. The unemployment rate in the Mesa area is 3.1% compared with 4.1% for the U.S.
The minimum wage in Arizona is $12.80, increased from $12.15 in 2022. That's one of the highest minimum wages in the country and even more impressive considering states with a higher minimum wage have a much higher cost of living such as California, Massachusetts, Washington, and New York.
Here's how much you can expect to earn on average with common jobs in Mesa, AZ:
Family Nurse Practitioner (NP): $101,100
Software Engineer: $83,000
Office Manager: $46,400
Registered Nurse (RN): $32/hour
Certified Nurse Assistant (CNA): $16/hour
Medical Assistant: $16/hour
Mesa, AZ Property Taxes, Income Tax & Sales Tax
Don't forget taxes are a big part of the Mesa, Arizona cost of living. Here's what you can expect to pay in taxes.
Arizona Income Tax
Arizona has four income tax brackets ranging from 2.59% to 4.5% depending on tax filing status and taxable income. There is a 3.5% tax surcharge on taxable income over $250,000 (single or filing separately) or $500,000 (filing jointly or head of household).
Sales Tax in Mesa, AZ
Arizona state, counties, and municipalities impose a sales tax called the Transaction Privilege Tax (TPT). The Mesa, Arizona combined sales tax rate is 8.3%:
Arizona: 5.60% sales tax
Maricopa County: 0.7% sales tax
Mesa: 2% sales tax
Mesa & Maricopa County Property Taxes
Arizona property taxes are very unique because the state uses two values and two tax rates: a primary tax rate for maintenance and operating budgets of local and state governments and secondary tax rates for bonds, budget overrides, and special districts. Homeowners also pay not just city and county property tax rates but a state property tax rate.
Maricopa County property taxes are calculated by multiplying your home's full value by the assessment ratio (10% for residential properties), dividing the assessed value by 100, then multiplying it by the tax rate.
You can see all 2021 Maricopa County property tax rates here.
Mesa, Arizona does not have a primary tax, and its secondary property tax is calculated with a tax levy, not a tax rate. This is calculated by multiplying your home value by the tax rate.
The 2022 secondary property tax rate in Mesa, Arizona is $1.1319 per $100 in value. That's a tax bill of $160 for a median-value residential home in the City of Mesa. The Maricopa County property tax rate is $1.5807 per $100 in value for 2022.
Phoenix vs Mesa Cost of Living
Trying to decide between moving to Mesa or Phoenix? Here's a quick Phoenix vs Mesa, AZ cost of living comparison.
| | | |
| --- | --- | --- |
| | Phoenix | Mesa |
| Average home price | $438,000 | $441,500 |
| Average rent | $1,547 | $1,529 |
| Price-to-rent ratio | 24.06 | 23.59 |
| Average salary | $70k ($19.19/hour) | $65k ($17.61/hour) |
| Primary property tax rate | 1.3055 per $100 | none |
| Secondary property tax rate | 0.8141 per $100 | 1.1319 per $100 |
Despite high home prices, Mesa is an affordable place to live, especially for a large metro area! Are you ready to relocate to Arizona's third largest city? Give us a call at Mentors Moving & Storage to discuss your move and get a free, affordable moving estimate.