Maricopa County is the largest county in Arizona by population and is the fourth-largest county in the United States. More than half of the people living in Arizona are in Maricopa County. It may not be the largest geographically but has long been the fastest-growing area within the state.
Often referred to as the Silicon Desert, cities in Maricopa County are well known for their great job opportunities, fun local activities, and providing amazing weather for most of the year.
Anyone considering relocating to the area will want to use information from the US Census to learn more about Maricopa County cities, what they have to offer, and more about their culture.
Maricopa County Demographics
Understanding the general overview of cities in Maricopa County will make it easier for you to determine their differences and how they each relate to other nearby communities.
Population:

4,485,414 residents

Median Age:

37 years old

Median Household Income:

$68,649

Median Home Listing Price:

$293,600

Area of County:

9,200.7 square miles

Density:

487.5 people per square mile

Educational Attainment:

88.1% high school graduate or higher
Cities in Maricopa County
As you look through this list of cities in Maricopa County, you can better identify which area will be a good fit for you and your lifestyle needs.
As the capital of Arizona and the central hub of the "Valley of the Sun", Phoenix is a desert oasis that offers its residents great weather and fantastic amenities. Founded in February 1881, it is known for its amazing hotel resorts, championship golf courses, luxury dining locations, and beautiful desert landscapes.
Phoenix is the largest city in Maricopa County by population. The local culture in Phoenix represents the heart and soul of Arizona with its infusion of Hispanic influence and Native American background.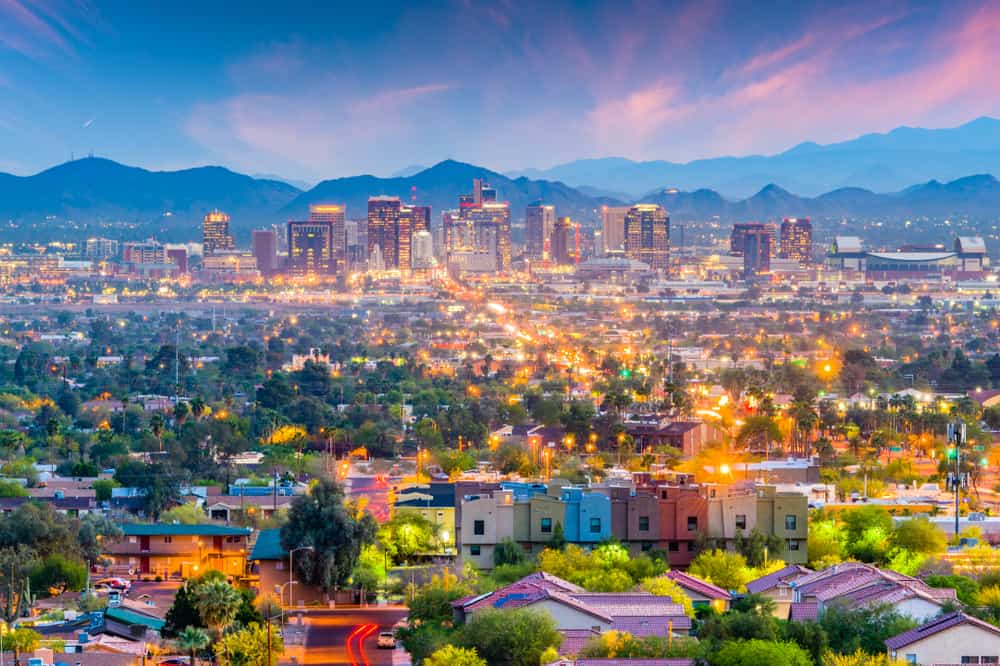 A couple of the best things to do in Phoenix include visiting the Phoenix Zoo and spending time at the beautiful Encanto Park.
Some of the best places to work in Phoenix are Cable ONE, Sunstate Equipment Co, Western Alliance Bank, and Shamrock Foods.
The city of Phoenix is where you'll find Chase Field, which is where the Arizona Diamondbacks MLB baseball team plays their home games. It is also the location of Footprint Center, home to the Phoenix Suns NBA basketball team.
Notable people from Phoenix include American Idol winner Jordin Sparks, original Wonder Woman actress Lynda Carter, country singer Dierks Bentley, singer Stevie Nicks, and Linkin Park singer Chester Bennington.
Since they're all in the Phoenix Valley, all of the cities on this list have pretty much the same weather and climate. The area gets average summer temperatures between the low 80s at night to highs that are consistently in the 100s. Winters in Phoenix are pleasant and comfortable with temps between the mid-40s and upper 60s.
Phoenix Population:

1,680,988

Phoenix Area:

517.7 square miles

Phoenix Age:

34.4 years old

Phoenix Median Household Income:

$60,931

Phoenix Median House Price:

$266,600

Phoenix Density:

3,247.2 people per square mile
Since it was established on February 14, 1878, the city of Mesa has grown into the third-largest city in Arizona and the second-largest city in Maricopa County. The area is often known for its scenic beauty and views of the nearby Superstition Mountains.
Located about 20 miles east of downtown Phoenix, Mesa has a strong arts and entertainment culture with popular attractions like the Arizona Museum of Natural History and the Mesa Arts Center.
There are plenty of family-friendly activities in Mesa with fun places like Golfland Sunsplash and the local Riverview Park.
Mesa is often considered a bedroom community but also offers jobs with companies like American Traffic Solutions, Mountain Vista Medical Center, Bingham Equipment, and Crescent Crown Distributing.
Mesa Population:

517,981

Mesa Area:

138.1 square miles

Mesa Median Age:

35.9 years old

Mesa Median Household Income:

$63,836

Mesa Median House Price:

$259,300

Mesa Density:

3,751.2 people per square mile
Founded in 1912, Chandler has become one of the most beloved cities in Maricopa County. It has a dense suburban setting and offers a quiet lifestyle for its residents.
Chandler is known for being a technology hub with major tech corporations like Intel and Microchip Technology having headquarters here. These companies offer many job opportunities for locals and help the city's economy to thrive.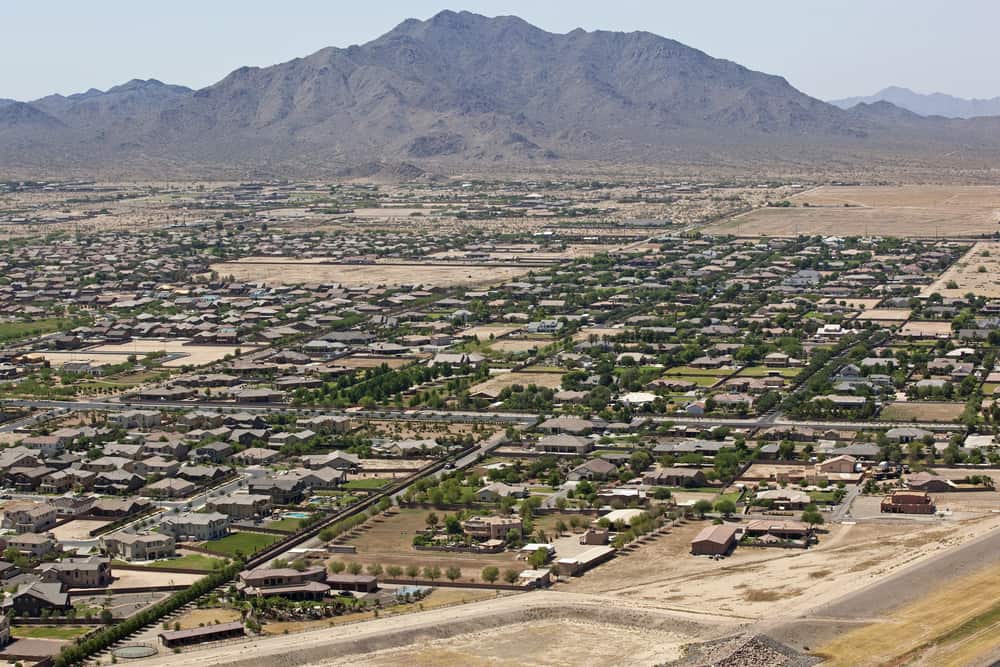 Downtown Chandler offers walkable areas with many neat activities and public art exhibits. It's easy to find nice places to eat as well as fun things to do around the city at places like Desert Breeze Park and Tumbleweed Park.
As home to the large Wild Horse Pass casino, this Chandler attraction features a variety of slot machines, table games, restaurants, and more.
Chandler Population:

261,149

Chandler Area:

65.1 square miles

Chandler Median Age:

37.8 years old

Chandler Median Household Income:

$83,709

Chandler Median House Price:

$342,200

Chandler Density:

4,010.1 people per square mile
As a growing community, the Glendale area was established in 1892 and has a lot going for it. More than 30,000 people have relocated to Glendale in the past decade, making it one of the fastest-growing Maricopa County cities.
The area of Glendale is known as "Arizona's Antique Capital" having some of the best shopping in the entire country, let alone in Maricopa County. One of the top places to shop in the area is the Westgate Entertainment District.
A few of the top activities in Glendale include Glendale Glitters, the local Sahuaro Ranch Park, and the famous Wildlife World Zoo, Aquarium & Safari Park.
Surrounding Luke Air Force Base, Glendale has a fairly strong military presence with members of the armed forces living within the community.
Glendale is the home of State Farm Stadium where the Arizona Cardinals NFL football team plays. The stadium hosted the Super Bowl in 2008 as well as 2015 and will play host again for Super Bowl LVII in 2023.
Glendale Population:

252,384

Glendale Area:

61.6 square miles

Glendale Median Age:

35.7 years old

Glendale Median Household Income:

$57,137

Glendale Median House Price:

$241,100 

Glendale Density:

4,097.7 people per square mile
Adjacent to some of the wealthiest cities in Maricopa County, much of Scottsdale is an affluent community with amazing amenities. Founded in 1951, the city is known for its fantastic golf courses, upscale boutiques, and amazing shopping at malls like Scottsdale Fashion Square.
The Scottsdale culture offers safe neighborhoods with low crime rates for the people living there. It is a kid-friendly area with some of the top-rated schools in Maricopa County.
Residents are able to enjoy a wide variety of great activities in Scottsdale including the OdySea Aquarium and the Talking Stick Resort, which also has its own casino.
Scottsdale Population:

258,064

Scottsdale Area:

184 square miles

Scottsdale Median Age:

50.1 years old

Scottsdale Median Household Income:

$86,097

Scottsdale Median House Price:

$534,300

Scottsdale Density:

1,402.6 people per square mile
Once called "The Hay Capital of the World" in the early 1900s, Gilbert has since become one of the most popular cities in Maricopa County. Located about 22 miles southeast of Phoenix, Gilbert is the 3rd safest city in Arizona with an overall crime rate that is 48% lower than the national average.
The area commonly known as Old Town Gilbert offers some of the cities top-rated places to eat including Culinary Dropout, Postino, Liberty Market, and Dierks Bentley's Whiskey Row.
You'll also find plenty of fun things to do in Gilbert with destinations like the Riparian Preserve at Water Ranch and the Freestone Park.
There is a family-friendly culture in Gilbert with many kid-related activities and great school districts. It is also a great place to live for young professionals who work in town or commute to other nearby communities.
Gilbert Population:

254,115

Gilbert Area:

68.5 square miles

Gilbert Median Age:

34.8 years old

Gilbert Median Household Income:

$102,793

Gilbert Median House Price:

$372,500

Gilbert Density:

3,711.1 people per square mile
The city of Tempe was established in 1879 and is best known for being home to Arizona State University. As a top-rated college, ASU is ranked by US News as the number one university in the United States for innovation along with many other strong rankings and achievements.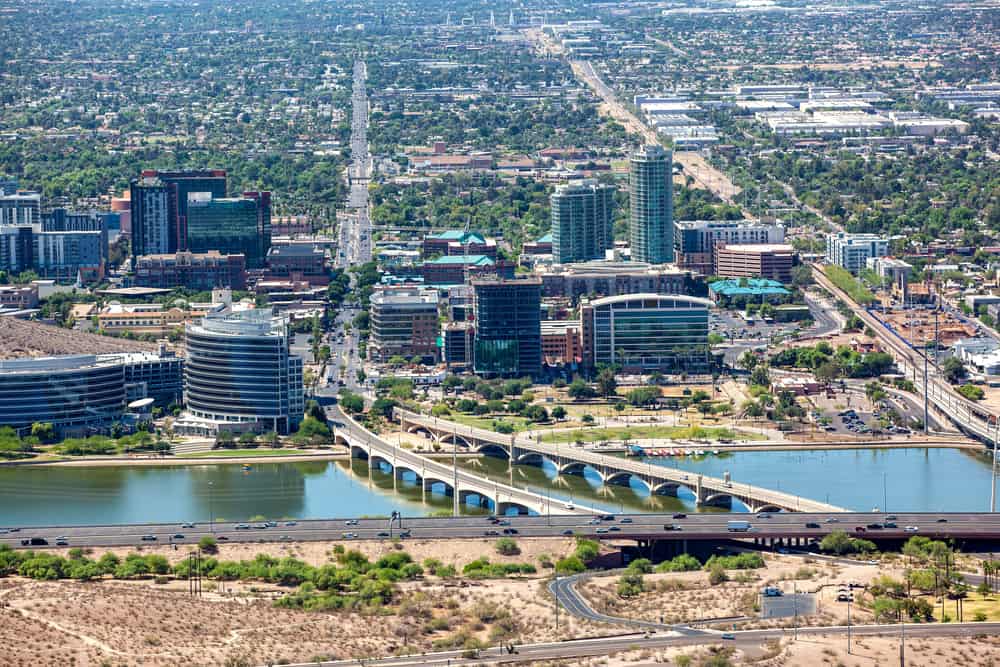 When it comes to local culture, Tempe is the best college town in Maricopa County with lots of young students and working professionals. You'll easily find plenty of coffee shops, places to study, and fun things to do nearby at top-rated spots like Tempe Beach Park.
Tempe also has many family communities and activities at popular destinations like the LEGOLAND Discovery Center. The Tempe Festival of the Arts is one of the best events of the year, taking place every December.
Tempe Population:

195,816

Tempe Area:

40 square miles

Tempe Median Age:

30 years old

Tempe Median Household Income:

$66,297

Tempe Median House Price:

$323,600

Tempe Density:

4,898.2 people per square mile
Founded in 1886 and incorporated in 1954, Peoria has expanded from a small farm town to a fast-growing city in Maricopa County.
The area of Peoria has a modern vibe but is best known for its close proximity to Lake Pleasant Regional Park. The 23,000-acre park offers visitors access to fishing, boating, water sports, kayaking, and more.
With a pleasant culture that offers something for everyone, Peoria has a great quality of life for its residents.
Peoria Population:

175,960

Peoria Area:

176 square miles

Peoria Median Age:

42.5 years old

Peoria Median Household Income:

$77,368

Peoria Median House Price:

$307,800

Peoria Density:

999.8 people per square mile
As the 6th safest city in Arizona, Surprise was founded as a Maricopa County city in the year 1938 by a woman named Flora Mae Statler. When asked about the city's name, Statler said it was chosen simply because she would be "surprised if the town ever amounted to much".
Surprise has since grown to a population of over 140,000 residents and offers great jobs with companies like Arizona Charter Academy, Sun Health, and the Surprise Police Department.
The city of Surprise's best activities are available at spots like Uptown Alley and the local Surprise Stadium. But the area is best known for having the largest tennis and racquetball complex in the entire southwest.
Surprise Population:

141,674

Surprise Area:

108.1 square miles

Surprise Median Age:

39.8 years old

Surprise Median Household Income:

$76,405

Surprise Median House Price:

$269,900

Surprise Density:

1,311 people per square mile
10. Avondale
Located to the southwest of downtown Glendale, the city of Avondale is split by the Agua Fria River. As a humble Maricopa City, the area was founded in December 1946 and offers locals a quiet place to live.
Avondale was once known for being a stopping point where travelers would rest on their journeys from Tucson to northern Arizona cities or to California. It now stands as a humble community with a culture best suited for middle-aged to senior individuals.
A couple of the top-rated places to visit in Avondale are the local Friendship Park and Main Event.
Avondale Population:

87,917

Avondale Area:

45.2 square miles

Avondale Median Age:

29.5 years old

Avondale Median Household Income:

$71,296

Avondale Median House Price:

$244,200

Avondale Density:

1,943 people per square mile
List of Cities in Maricopa County(Table)

Here is a complete list of cities in Maricopa County, sorted first by population, then other metrics from the US Census. Education Level is the % of the population that has finished high school. The Population Growth is from 2010 to 2019. If they exist, under Type, we have included cities, towns, villages, census designated places and more.
AZ Maricopa County
| wdt_ID | Name | Population | Med. Home Price | Med HH Income | Median Age | Education Level | Area (miles) | Pop. Growth % | Type |
| --- | --- | --- | --- | --- | --- | --- | --- | --- | --- |
Map of Cities in Maricopa County
FAQs
How many cities are there in Maricopa County?
There are 27 towns and cities in Maricopa County, AZ. There are also 19 census-designated places (CDPs).
What is the most populous city in Maricopa County?
Phoenix is the largest city in Maricopa County by population and is also the largest geographically.
How many people live in Maricopa County?
The population in Maricopa County is 4,485,414 people.
Which of Maricopa County's Cities is Right for You?
Now that you know more about the best cities in Maricopa County, you can choose which of these great communities is the place for you. At Mentors Moving, we have the top movers in Maricopa County who can assist with your transition. Get in touch with our team today by calling (480) 376-1009 or complete the Request a Quote form for a free moving quote!