Any type of relocation is tough, but moves tend to become more involved the further away your new home is. While you might be moving from Phoenix to Tucson for a new job, to attend school, or for personal family reasons, there are plenty of ways to make the process easier.
Although some long-distance relocations can feel stressful and difficult, they also bring a sense of excitement. Our Phoenix to Tucson movers are here to ensure your transition is safe and efficient.
What Moving to Tucson is Like
The city of Tucson is located about 60 miles north of the Mexican border and about 113 miles southeast of downtown Phoenix. Tucson is in the eastern portion of Pima County and is bordered by Casas Adobes, Catalina Foothills, Vail, and Drexel Heights.
Tucson is known for its multicultural heritage, performing arts destinations, and most commonly for being home to the University of Arizona.
The Tucson population is 548,082 residents with a median age of 34 years old. Local Tucson demographics are widely diverse with about 45% Hispanic or Latino, 42% Caucasian, 5% Black or African American, 3% Asian, and 2% Native American. The median household income in Tucson is $44,365.
If you are looking to purchase a house in Tucson, the costs are fairly affordable when compared to other cities in Arizona. The average price of a home in Tucson is $299,000.
Anyone interested in leasing their home or apartment will find the average price of rent in Tucson is $998 per month.
Among the reasons people relocate from Phoenix to Tucson, one of the most common is to attend college at the University of Arizona. There is also a lower cost of living in Tucson than in Phoenix and the community is less crowded.
Benefits of Moving from Phoenix to Tucson
Tucson offers a more quiet and laid-back lifestyle for its residents when compared to the hustle and bustle of big-city Phoenix.
The cost of living in Tucson vs Phoenix is about 13% less with basically every expense being lower in Tucson. Everything from food and healthcare to utilities and housing cost less as you make your way down to "The Old Pueblo".
Newcomers will always find plenty of fun things to do in Tucson with popular activities located all over town. One of the top-rated attractions in Tucson is the massive Saguaro National Park. Other great places to visit in Tucson include the Arizona-Sonora Desert Museum and the Pima Air & Space Museum.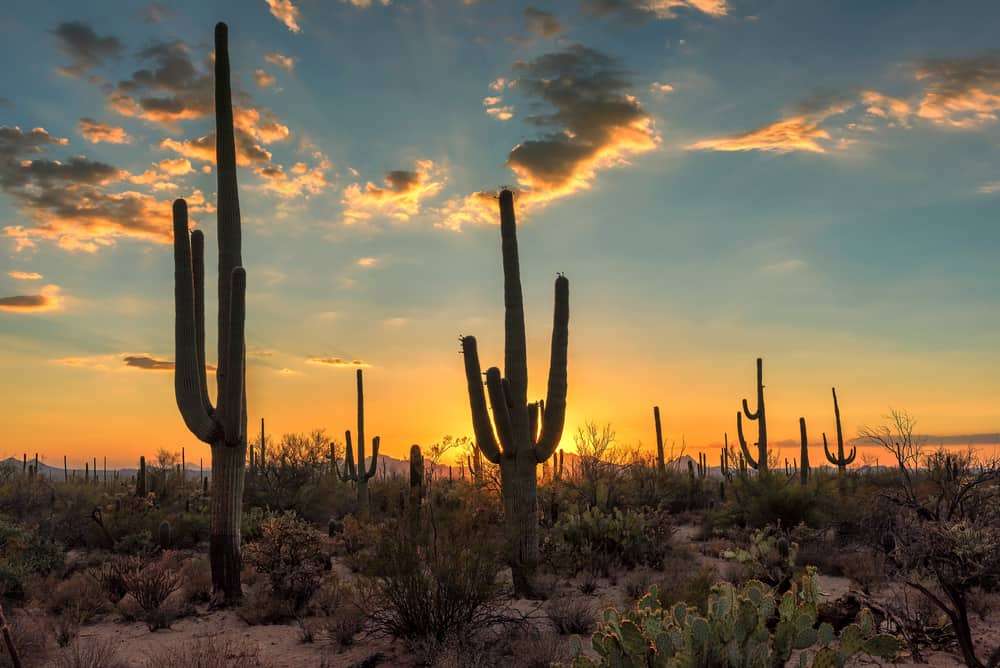 Ranked among the safest cities in Arizona, there are plenty of comfortable neighborhoods in Tucson. Some of the safest Tucson communities include:
Prince Tucson

Armory Park

Rosemont East
You'll quickly find that the Tucson weather and climate are almost identical to the Phoenix metro area. The summer brings hot, dry weather with temperatures between the mid-70s at night and well over 100°F during the day. Winters are much more comfortable though as temps lower in between the 40s and mid-60s, along with about 12 inches of annual rainfall.
When it comes to sports teams in Tucson, the biggest focus is on University of Arizona athletics programs. As part of the NCAA, the U of A Wildcats have won a total of 19 national championships in a handful of sports including men's baseball, basketball, and golf, as well as women's golf and softball.
The U of A basketball teams play at the McKale Memorial Center, while the football team plays at the Arizona Stadium. The Wildcats baseball program holds its games at Hi Corbett Field.
While there are no major professional Tucson sports teams like in Phoenix, the area does have a couple of semi-pro organizations. The FC Tucson soccer team is part of the USL League One. The Tucson Roadrunners are members of the American Hockey League.
Phoenix to Tucson Movers
It is important to get help when moving from Phoenix to Tucson so you can have a much simpler relocation. You'll quickly find that dependable Phoenix to Tucson moving companies will be able to assist you with:
The full transition process and management by your own personal Move Coordinator.

Supplying all of the moving materials and relocation equipment.

Professional packing services for all your possessions.

Loading your packed boxes, clothes, furniture, and other belonging.

Specialized moving trucks made to handle the long-distance trip from Phoenix to Tucson.

Optional storage services upon arrival at your new destination.

Transportation of your items to the next location.

Unloading everything and putting each piece in its proper place.

Reassembling any furniture that had to be disassembled.

Optional unpacking services upon arrival.

Transferring large appliances (disconnecting/connecting not included)
Thanks to all of this help from reliable Phoenix to Tucson movers, you get to enjoy a wide variety of benefits that lead to a stress-free relocation. The right team will save you time and ensure the entire process runs smoothly from start to finish. They'll help you pack and bring all the moving supplies so you don't have to worry about buying them all yourself.
Helpful Phoenix to Tucson moving companies will also offer their years of experience and industry expertise. This makes it easier for them to protect your belongings and avoid any damage to furniture or your home. Their goal is also to help prevent any back injuries or other problems by trying to do it on your own.
Why Mentors Moving is Your Best Phoenix to Tucson Moving Company
When it comes to choosing the right team to assist you, starting by looking at online moving company reviews is the best way to go. These details will help you determine whether the local Phoenix to Tucson moving company has a good reputation and offers the right types of services you need. It's also important to confirm they're licensed and insured while also looking to see how many years they've been in business.
Along with these essential details, it's also a good idea to make sure they have the proper equipment to handle your transition. This can include everything from dollies and moving blankets to bubble wrap, boxes, and specialized trucks.
If you want to team up with the best Phoenix to Tucson movers, look no further than the top-rated crew at Mentors Moving. Since getting started in 2006, our team has handled more than 1,200 relocations per year. Each of our team members is 100% background-checked and goes through a rigorous 160-hours training program to give you added peace of mind.
We have received hundreds of positive Phoenix long-distance moving reviews across sites like Google and Yelp.
Phoenix to Tucson Moving Cost
As you prepare for your upcoming relocation, you're likely wondering how much you can expect to pay for the right services. The cost of moving from Phoenix to Tucson depends on a handful of specific factors including:
Your move-out and move-in dates (such as weekends and busy seasons).

The estimated weight of your possessions that will be packed and loaded.

The distance between your current residence and your new location.

Any added services you decide to use like packings, appliance connections, and others.

Whether you need storage services upon arrival.
The best way to understand how much you'll pay when relocating from Phoenix to Tucson is by reaching out to a reputable team like Mentors Moving for an estimate. Based on the factors above, we'll use our professional expertise and a moving calculator to determine a price that is fair and affordable.
Phoenix to Tucson Distances & Travel Information
The majority of people who go through long-distance moves usually drive, but there are multiple ways you can get from Phoenix to Tucson.
Driving from Phoenix to Tucson
Whether you're planning a road trip or you are moving from Phoenix to Tucson, there's one main route you'll want to follow. The drive follows the I-10 Freeway south until you pass the 202 Loop where you'll then continue along the I-10 to the southeast. The distance from Phoenix to Tucson covers about 113 miles and takes about 1 hour and 45 minutes on average.
Along the way, you can always stop to see interesting sites between Phoenix and Tucson such as Arizona Mills shopping mall, the Wild Horse Pass Casino, and Picacho Peak State Park.
Flying from Phoenix to Tucson
There are more than 120 weekly flights from Phoenix to Tucson each week on airlines like American Airlines, United Airlines, and Southwest Airlines. Flights travel from Sky Harbor International Airport in Phoenix to Tucson International Airport. The trip is less than one hour with average flight times around 50 minutes.
The average cost of a flight from Phoenix to Tucson is between $160 to $179 depending on your airline.
Traveling from Phoenix to Tucson by Train
Travelers have the option of two daily Amtrak trains going from Phoenix to Tucson. Tickets cost an average of $60 per person and the trip takes about 3 hours and 50 minutes.
Moving from Phoenix to Tucson?
Hire the top Phoenix to Tucson movers at Mentors Moving for your upcoming long-distance relocation! Call today at 480-376-1009 or complete the Request a Quote form for a free moving estimate!