Whether you are trying to keep your kids active or want to enjoy the city you live in, there are many beautiful parks in Tempe worth visiting. During the summertime, you can head to top-rated Tempe water parks to cool off and enjoy the sunshine. During the rest of the year, you can check out the best Tempe parks such as Tempe Beach Park and Kiwanis Park.
No matter what kind of experience you want, there are playgrounds and parks in Tempe to suit your interests.
1. Kiwanis Park
If you are searching for some of the most popular parks in Tempe, then Kiwanis Park should be one of the first places on your list. Kiwanis Park has everything you need to enjoy the warm weather with trees, sports facilities, public art, grass, and plenty of events. For athletic fans, there are basketball courts, baseball diamonds, batting ranges, swimming pools, tennis courts, softball fields, volleyball courts, and soccer fields.
The local Kiwanis Park also has plenty of options for younger residents as well including the children's playground. Grills are perfect for barbecuing, and there are plenty of open grassy areas. Plus, visitors can enjoy the lake, horseshoes, and urban fishing.
Originally, the land for this beautiful park was bought in 1972 through money from the Bureau of Recreation. Because the Kiwanis Club donated most of the development funds, the park was named in honor of them. Today, this Tempe park sits on 125 acres of green space.
2. Rio Salado Park

If you are trying to see what parks are in Tempe, AZ for summertime, you are in luck! The Rio Salado Park, once an old industrial area, is a desert environment that is host to a number of excellent walking trails and over 200 bird species!

View this post on Instagram
Designated as a wildlife preservation area, the Rio Salado Park serves as a refuge for the many hundreds of bird species that pass through the area during the migration seasons, running along a great portion of the Rio Salado. It has trails of varying types, most flat and casual, perfect for bikes and casual hikes.
As it is a wildlife preserve, visitors must take extra care to not litter or otherwise disturb the sensitive habitats of these precious birds. However, there's plenty to love for an outdoorsman!
3. Papago Bark Park
No list of the most fun parks in Tempe would be complete without a dog park for your fur babies. If you are worried about your furry friends, there is a Tempe dog park in the area designed just for them inside Papago Park. The Papago Bark Park is the place where local pooches go running, play, and socialize with other pets.
Dogs can enjoy having spacious, grassy areas to run around in. Because it is next to the lake, there are plenty of trails and cool spots for relaxing. Plus, there are some great hiking trails in the area. 
Human companions can find plenty of things to do at the park as well. There are basketball courts, a baseball diamond, softball fields, ramadas, and a playground outside of the dog park. Plus, there are plenty of picnic tables and grills for family gatherings at this popular Tempe park.
4. Tempe Beach Park
Known as one of the most fun parks in Tempe, the Tempe Beach Park is a great place to take children, your space, or even some friends. Along with athletic fields and a baseball diamond, it also offers a splash playground for kids. Spanning 25 acres in size, this park has more than five miles of exercise trails and jogging paths.
Families can enjoy spacious picnic areas, grills, and water fountains. Located around Tempe Town Lake, Tempe Beach Park is a popular location for swimming. There are also areas for boating, fishing, and other lake-related activities.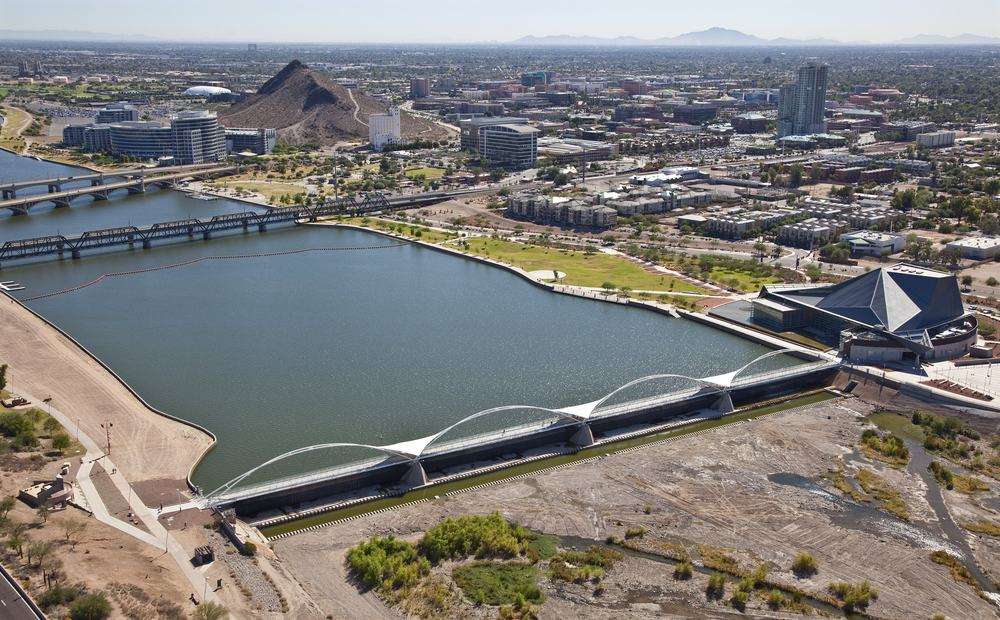 Originally developed in the 1920s, Tempe Beach Park was outfitted with an Olympic-sized pool in 1923. Each year, it hosts about 40 different events. Some of the most famous events include the Rock 'n' Roll Marathon, Way Out West Oktoberfest, Ford Ironman Arizona, and a Fourth of July celebration.
5. Selleh Park
While it might not be one of the biggest parks in Tempe, it definitely has one of the best playgrounds. If you are searching for what parks are in Tempe, AZ, this is a good one to check out with your family. Encompassing 6.3 acres in size, Selleh Park was originally created in 1972 to honor the founder of Selleh Sporting Goods. 
The small park in Tempe includes a fun playground as well as basketball courts and a pond. Along with standard amenities, it is outfitted with picnic tables, grills, and restrooms.
6. Esquer Park
While it might not be one of the largest water parks in Tempe, the spray park at Esquer Park is still an excellent place to go if you want to escape the heat. As one of the top Tempe Parks, this spray park features a splash playground, pools, and a splash pad. 
Along with the splash playground, the park includes a regular playground, benches, and a basketball court. There is also a section of the park where you can find a skate park and bike park.  
Esquer Park is one of Tempe's best-kept secrets. While other splash parks are overrun with people during heatwaves, this park is frequently forgotten. Because of this, the Tempe splash park is rarely crowded.
7. Daley Park
Spanning 17 acres in size, Daley Park is one of the oldest Tempe Parks. You can find a baseball diamond, horseshoes, basketball courts, and softball fields within this park. On weekends, families can enjoy a meal around the picnic tables or grills.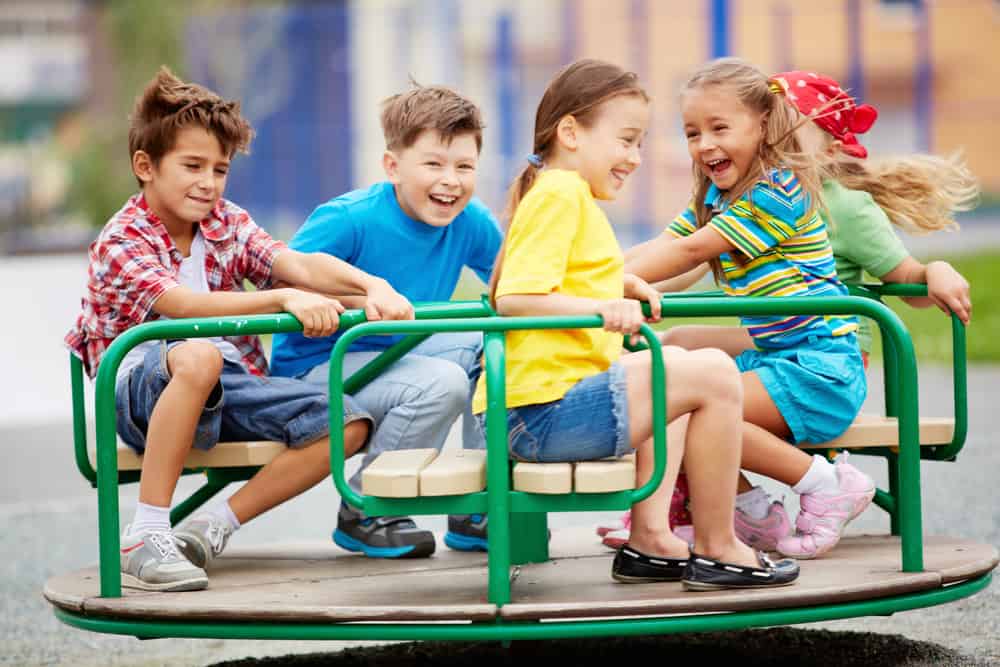 Younger residents will enjoy the playground. Ramadas provide added shade during the heat of the summer. Plus, the ample green space is perfect for frisbee and other outdoor games.
8. Dwight Park
Known as one of the top parks in Tempe, Dwight Park spans just four acres in size. Originally, it was known as the Diamond Park because it was shaped like a diamond. Created in 1974, it was renamed in 1988 in honor of former Tempe City Councilman Joseph Dwight. 
Today, visitors can unwind on the acres of grassy fields. The park is outfitted with lighting, picnic tables, and grills. In addition, residents can enjoy the soccer fields, basketball courts, and playground.
Map of Tempe, AZ Parks
Discover the Best Parks in Tempe to Visit
Whether you are searching for a dog park or want to cool off at a spray park, there are many top Tempe parks you can check out. Each park has unique amenities, so the right attraction depends on what you are looking for. While most parks have a playground and some green space, only a few destinations have a dog park or horseshoes.  
Meanwhile, the top spray parks and water parks in Tempe are excellent places to go during the spring, summer, and fall. No matter what kind of recreational options you are searching for, you are bound to find a Tempe park to match your needs.
Looking up local parks in Tempe before you relocate to the area? Our trustworthy Tempe movers are the best team to count on for the transition! Give Mentors Moving a call today at 480-376-1009 or complete the Request a Quote form above for a free moving estimate!