As an urban village located about 12 miles southwest of downtown Phoenix, the community of Laveen is a large area and stands as a great place to live. Laveen is bordered by Ahwatukee Foothills, Estrella, South Mountain, Komatke, and Tolleson.
The area now called Laveen was first settled by a small group of dairy farmers in the year 1884. It is separated from the Phoenix area by the Salt River but is still considered a part of the big city.
Walter E. Laveen founded the village and opened the first Laveen General Store. Walter also served as the community's first postmaster, and eventually worked as the Sheriff of Pinal County for a few years.
Members of the area live by the common motto that Laveen is "where rural is a way of life".
Laveen is most known for its local Del Monte Market, which is now the oldest operating market in Arizona since 1908.
1. People of Laveen, AZ – Population & Demographics
How many people live in Laveen? Although only about 25 people lived in the area during the early 1900s, the village has grown rapidly with many new people relocating to Laveen in the past century. The most recently reported Laveen Village population is 48,021 residents with a median age of 31 years old.
Among the most diverse Phoenix suburbs, Laveen demographics consist of 47% Hispanic or Latino, 24% Caucasian, 20% Black or African American, and 6% Asian. The gender ratio in Laveen is a nearly perfect split between men and women at around 50% each. 
The median household income in Laveen is $67,000, almost right at the same mark as the national average.
2. Cost of Living in Laveen, AZ
How much does it cost to live in Laveen? The average cost of living in Laveen is 6% higher than the national average and about the same as the Arizona state average. Higher expenses can be expected when it comes to food, local utilities, and the Laveen real estate market. On the other hand, things like healthcare and transportation tend to have lower prices than average.
The homeownership rate in Laveen is 68%. There are beautiful Laveen, AZ homes for sale all over the village that will provide a safe haven for everyone from young families to senior couples. The average price of a home in Laveen is $382,000. The Laveen property tax rate is 0.610%, which for an average home equals out to around $2,330 per year.
The remaining 32% of locals living in Laveen rent their houses, condos, and apartments. On average, the price of rent in Laveen is $1,228 per month depending on location, size, and nearby features.
3. Laveen Neighborhoods
Are neighborhoods in Laveen safe? The Laveen crime rate is 50% higher than the national average with violent crime that is about 68% higher. Residents living in Laveen have a 1 in 27 chance of being the victim of a crime. As you look through local Laveen communities, you will find that some are safer than others.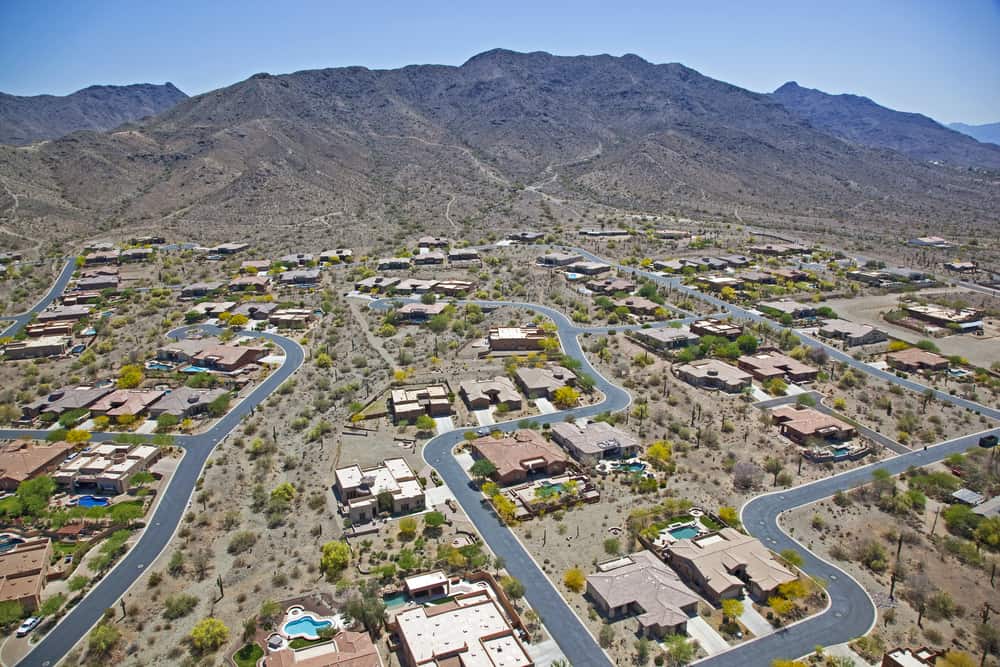 Where should you live in Laveen? If you want to find the best Laveen neighborhoods, a few of the top options include:
While Laveen is considered a village, it covers a decently sized area of 47.99 square miles in the central area of Maricopa County. Within this area, the local Laveen zip codes are 85009, 85041, 85043, 85048, and 85339. The two main area codes in Laveen are 602 and 623.
People in the area enjoy lots of convenient shopping in Laveen at destinations such as Walgreens, Walmart, the Laveen Village Marketplace, Fry's, Safeway, Sprouts, 99 Cent Store, and the Laveen Ranch Marketplace.
4. Laveen, AZ Weather
The area is located within the Sonoran Desert, which creates an arid desert climate in Laveen. This leads to hot, dry summers and mild, cool winters.
The average temperature in Laveen at the peak of summer can reach upwards of 110°F in the afternoon with lows in the upper 70s at night. If you can get past the few hot months of summer, winters are nice and cool with temperatures between the low 40s and mid-60s. The weather in Laveen also gets about 8.5 inches of rain per year.
5. Things to Do in Laveen
Thanks to its close proximity to Phoenix and other popular parts of town, there are always fun things to do in Laveen.
View this post on Instagram
One of the top places to visit in Laveen is the local Cesar Chavez Park, featuring a wide variety of exciting outdoor activities. You can head over to Alvord Lake for fishing or simply take a picnic to enjoy on a nice, sunny day. The highly-rated Laveen park also has a skate park, baseball fields, basketball courts, and other sports facilities.
Cesar Chavez Park, 7858 S 35th Ave, Laveen Village, AZ 85339  (602) 262-6111
If you're looking for a place to escape the summer heat, the Sky Zone Trampoline Park offers fun Laveen attractions indoors. Among the best places to visit in Laveen with kids, this popular landmark offers everything from a ninja warrior course and ultimate dodgeball to a zipline, trapeze, and loads of trampolines.
Sky Zone Trampoline Park, 3636 W Southern Ave, Phoenix, AZ 85041  (602) 704-3404
Additional Major Laveen Attractions
6. Laveen Restaurants
With a variety of top-rated restaurants in Laveen, you'll never have to travel far when you're looking for a good place to eat.
View this post on Instagram
One of Laveen's most popular places to eat is Black Bear Diner, serving up delicious American comfort food. Take your pick between chicken fried steak, smoked beef brisket, housemade meatloaf, fried chicken, and more.
Black Bear Diner Laveen, 3530 W Baseline Rd, Laveen Village, AZ 85339  (602) 237-7461
When you're looking for delicious Italian food, Mimi Forno Italiano is among the best restaurants in Laveen. Enjoy mouthwatering plates of lasagna, ravioli, gnocchi, pizza, or calzones, and wash them down with a refreshing soft drink or a specialty wine.
Mimi Forno Italiano, 3624 W Baseline Rd #174, Laveen Village, AZ 85339  (602) 368-4612
7. Jobs in Laveen
The average salary in Laveen is $57,000 per year. People living in Laveen are subject to the state income tax rate of 2.24%. The Laveen unemployment rate is 6.6%.
There are a large number of recognizable company names when it comes to local Laveen jobs. Some of the best places to work in Laveen include:
Some of these careers require that residents commute from Laveen to Phoenix about 12 miles away and about a 25-minute drive.
8. Laveen Schools
Home to around 12,005 kids between the ages of 0 and 18 years old living in Laveen, children make up more than 25% of the village population.
The area hosts multiple education programs such as the Laveen Elementary School District and the Phoenix Union High School District. The top Laveen schools are:
Vista del Sur Accelerated School

Trailside Point Performing Arts Academy

Country Gardens Charter School
There are plenty of colleges and universities near Laveen including the University of Phoenix only 13 miles away. Other options that are close to Laveen are Grand Canyon University and Arizona State University.
Living in Laveen Pros & Cons
Pro:

The affordable cost of living in Laveen makes it a great place to live for nearly any household.

Pro:

Exciting things to do and popular Laveen restaurants offer residents their fair share of fun activities.

Con:

The Laveen crime rate is fairly high in some parts of town, making it important to do your homework before relocating to the area.
Moving to Laveen, AZ
There are so many things that make moving to Laveen a great idea. Whenever you need help with a relocation, the reliable Laveen movers at Mentors Moving are standing by to take on the job! Give us a call today at 480-376-1009 or fill out the Request a Quote form on this page for a free moving estimate!