The census-designated place and master-planned community of Sun Lakes, AZ is located about 24 miles southeast of downtown Phoenix. The adult living neighborhood of Sun Lakes is bordered by Santan Vista, Goodyear Village, Balboa Way, and Ironwood Estates.
Sun Lakes was established in 1972 as a resort-style active adult living community by a man named Ed Robson. He used 2,560 acres of farmland he owned to plan the project as a way to compete with the city of Sun City, which is located near Peoria. Sun Lakes has since achieved this goal as one of the top destinations for retirees and other active adults.
The community of Sun Lakes is commonly known for its incredible golf courses, country clubs, beautiful amenities, and other attractions. It is one of the most popular places to retire in the state of Arizona.
It's easy to travel from Sun Lakes to Phoenix, which only takes about 30 minutes.
1. People of Sun Lakes, AZ – Population & Demographics
How many people live in Sun Lakes? The Sun Lakes population is 14,473 with a median age of 73 years old. Homes in the area are consistently sold out with no more room for new people relocating to Sun Lakes. Properties only become available as others move away from the area.
Sun Lakes demographics show the city is made up of about 95% Caucasian, 2% Hispanic or Latino, and 1% Black or African American. The gender split shows many more women reside in the area with a ratio of 55% female and 45% male.
More than 95% of the residents living in Sun Lakes are over the age of 55 years old, while a total of 40% of residents are above the age of 75 years old.
The median household income in Sun Lakes is $56,779, though most residents are now living off of their retirement income.
2. Things to Do in Sun Lakes
Looking through the many Sun Lakes attractions, one of the most popular is the Sun Lakes Country Club, where visitors can enjoy a variety of fun activities. From golfing and swimming to tennis courts and more, active seniors will love this popular destination. As one of the best things to do in Sun Lakes, the club also offers access to great food at the Sunset Grill.
View this post on Instagram
Sun Lakes Country Club, 25601 E Sun Lakes Blvd N, Chandler, AZ 85248  (480) 895-9270
Another great place to visit in Sun Lakes is IronOaks, a destination known for its golf course, scrumptious food, and other fun activities. Their location offers visitors fitness classes, courts, and various learning classes.
View this post on Instagram
IronOaks At Sun Lakes, 24218 South Oakwood Boulevard, Sun Lakes, AZ 85248  (480) 317-3600
Additional Major Sun Lakes Attractions
3. Sun Lakes Restaurants
One of Sun Lakes's top places to eat is Palo Verde Restaurant, a nice restaurant located at the Cottonwood Country Club. Their incredible menu features a delicious spread of salmon, ribeye steak, chicken marsala, tacos, beef stroganoff, shrimp scampi, salads, and much more.
View this post on Instagram
Palo Verde Restaurant, 10801 E San Tan Blvd, Sun Lakes, AZ 85248  (480) 895-1981
Also among the top restaurants in Sun Lakes, Stone & Barrel is a bar and grill serving up freshly made pizza. Located within IronOaks, the taphouse has a great selection of craft beers and fine wines. Pair your drink with one of their mouthwatering entrees such as a wood-fired pizza, salad, sandwich, NY strip, grilled salmon, or pot roast.
Stone & Barrel, an IronOaks Taphouse
View this post on Instagram
Stone & Barrel, an IronOaks Taphouse, 25379 S E J Robson Blvd, Sun Lakes, AZ 85248  (480) 317-3605
4. Cost of Living in Sun Lakes, AZ
The average cost of living in Sun Lakes is 15% higher than the U.S. average and about 13% higher than the Arizona average. The Sun Lakes real estate market as well as food and transportation play the biggest role in these living costs.
The homeownership rate in Sun Lakes is 90.9% as the vast majority of people relocating to Sun Lakes end up purchasing their residences. Local Sun Lakes, AZ homes for sale tend to go for a median sale price of $195 per square foot and require an average down payment of 10%. The average price of a home in Sun Lakes is $391,000.
The Sun Lakes property tax rate is 0.610%, which means a $391,000 home purchase would equal out to about $2,385 per year in property taxes.
Less than 10% of residents living in Sun Lakes rent their homes. But if you decide to lease after moving there, the average price of rent in Sun Lakes is about $1,504 per month. Typically, your Sun Lakes rent cost will largely be based on your community and the perks it offers.
5. Sun Lakes Neighborhoods
Thanks to its gated communities and various security features, Sun Lakes is a safe place to live. The crime rate in Sun Lakes is 34% lower than the national average with a 1 in 62 chance of becoming victimized by crime.
Where should I live in Sun Lakes? The best Sun Lakes neighborhoods are gated neighborhoods that boast incredible amenities and quiet lifestyles. Some of the top gated communities and various neighborhoods in Sun Lakes include:
IronOaks

Cottonwood Palo Verde

Robson Communities

Sun Lakes

(a non-gated community surrounded by Sun Lakes Boulevard)
Sun Lakes covers a small area of about 5.4 square miles along the southeastern border of Maricopa County. The Sun Lakes zip code is 85248. New residents getting a local phone number after moving to Sun Lakes will get a 480 area code.
Residents love the convenient shopping in Sun Lakes at places like Bashas, CVS, Dollar Tree, Beall's Outlet. Walgreens, and The Promenade at Fulton Ranch.
6. Sun Lakes Schools
No children live in Sun Lakes, which means there are no elementary schools or high schools within the community. But there is the Sun Lakes Center, a local campus for Chandler-Gilbert Community College, which offers classes for seniors and retirees to expand their knowledge.
7. Jobs in Sun Lakes
The majority of residents living in Sun Lakes are retired seniors who are no longer employed. But for the few individuals who are still working, there are a handful of Sun Lakes jobs nearby that offer good opportunities. The best places to work in Sun Lakes are:
American Express

Wells Fargo

Honeywell
Arizona income tax rates range from 2.59% to 4.5%, so your personal income taxes will depend on how much you make per year. The Sun Lakes unemployment rate is 4.8% when removing any residents who are already retired.
8. Sun Lakes, AZ Weather
With long, hot summers and short, mildly cool winters, the desert climate in Sun Lakes tends to be dry and warm for most of the year. Sun Lakes weather is still highly desirable because of the limited precipitation and large number of sunny days the city gets annually.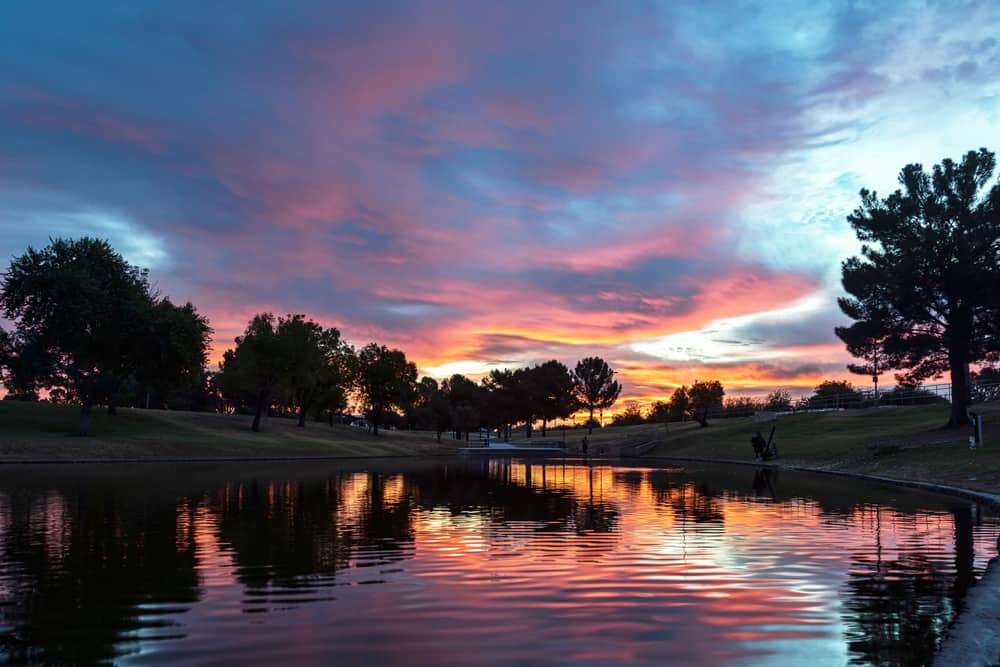 The average temperature in Sun Lakes during the summer ranges from the low 80s to highs around 105°F. Winters cool down to temperatures averaging between the low 40s at night and mid-60s during the day. Sun Lakes gets only about 9 inches of rain per year.
Living in Sun Lakes Pros & Cons
Pro:

Retire to one of the top active adult communities in the state of Arizona.

Pro:

Find a great variety of fun things to do and great places to eat in Sun Lakes.

Con:

The cost of living in Sun Lakes is higher than both national and state averages.
Moving to Sun Lakes, AZ
There are so many benefits when you move to Sun Lakes! Call the best moving company in Sun Lakes here at Mentors Moving if you need a mover to help with your upcoming relocation! Get in touch with us today at (480) 376-1009 or complete the Request a Quote form on this page for a free moving estimate!