Surrounded by other great areas like Glendale, Sun City, and Surprise, the area of Peoria, AZ is a beautiful part of town and a major Phoenix suburb. It's also the 6th largest city in AZ for land area and the 9th for population!
Known for the spectacular Peoria Sports Complex, where the San Diego Padres and Seattle Mariners train, and the city's close proximity to Lake Pleasant, Peoria is recognized by many as a great place to live in the Phoenix Valley. Located about 14 miles northwest of Phoenix, it is a convenient option for commuters, families, and retirees.
As the area continues to grow with more people moving to Peoria every year, it's well worth a look as an option for anyone who wants to live near the big city. There are so many reasons to move to Peoria and learning more about living in Peoria is the perfect way to see if it's the right place for you.
1. People of Peoria, AZ – Population & Demographics
Back in the early 1980s, there were only about 12,100 people living in Peoria. Since then, the city has seen massive growth and now has a population of about 161,383 residents with a median age of 39 years old. These locals enjoy a wide range of benefits and safe, comfortable communities.
The gender ratio in Peoria is pretty close with about 51.6% of the population being women and the other 48.4% being male. Additional details about Peoria racial demographics show the city's population is made up of around 70.7% Caucasian, 14.2% Hispanic or Latino, 3.7% Asian, and 3% Black or African American.
2. Fun Things to Do in Peoria
Covering a huge part of the Phoenix Valley, the city of Peoria offers its residents a massive amount of exciting things to do. Easily the most popular is the gorgeous Lake Pleasant Regional Park, where people from all over come boating, fishing, hiking, camping, and even picnicking. The beautiful lake is a popular spot for waterskiing, wakeboarding, jet skiing, and other water sports.
View this post on Instagram
Lake Pleasant Regional Park, 41835 N Castle Hot Springs Rd, Morristown, AZ 85342
(928) 501-1710
Another one of the best activities in Peoria can be found at Sahuaro Ranch Park, which provides room to run, play, and exercise. It is a great place for birdwatching, playing sports, or having a picnic with your family. Among the top things to do in Peoria, visitors can head over to the historic house museum or simply wander around the beautiful green area as they please.
View this post on Instagram
Sahuaro Ranch Park, 9802 59th Ave, Glendale, AZ 85302
(623) 930-2820
Peoria Additional Attractions
3. Great Peoria Restaurants
After a long day at the office, it's time to enjoy one of the many top-rated restaurants in Peoria. High on that list is the amazing location of Abuelo's Mexican Restaurant with its menu chips, dips, soups, nachos, salads, burritos, tacos, and other Hispanic plates. Whether you simply need a margarita or a full-size meal, this great place to eat in Peoria has you covered.
View this post on Instagram
Abuelo's Mexican Restaurant, 16092 N Arrowhead Fountains Center Dr, Peoria, AZ 85382
(623) 878-8282
Considered by many local as the best restaurant in Peoria, BJ's Restaurant & Brewhouse is the perfect place to enjoy a delicious lunch or dinner. They're known far and wide for their burgers and sandwiches, while also offering tacos, salads, and other yummy dishes. But most people go to BJ's for their drink menu, which features a huge list of house brews for all tastes.
View this post on Instagram
BJ's Restaurant & Brewhouse, 9748 W Northern Ave, Peoria, AZ 85345
(623) 772-6470
4. Peoria, AZ Cost of Living
Seen as a fairly affordable city to reside in, the cost of living in Peoria is only about 10% higher than the U.S. average and about 8% higher than the Arizona average. While local healthcare is a bit more affordable, other expenses like groceries, utilities, transportation, and the housing market are slightly more expensive.
Thinking about looking through homes for sale in Peoria, AZ and purchasing your living space? With a 72% homeownership rate, most people residing in Peoria own their properties. Having risen about 6.4% in the last year, the average price of a home in Peoria is around $335,000.
If you're relocating to Peoria with the intent to lease your home or find an apartment, you still have more than enough options as well. The average price of rent in Peoria is $1,291 with varying costs based on where you live, the size of the location, and other factors. You can typically expect to pay around $1,157 per month for a one-bedroom location up to about $1,316 per month for a two-bedroom.
5. Beautiful Peoria Neighborhoods
Peoria, AZ spans a ginormous piece of land which adds up to nearly 180 square miles. This provides the people living in Peoria with plenty of options for comfortable communities that fit their exact lifestyle and needs.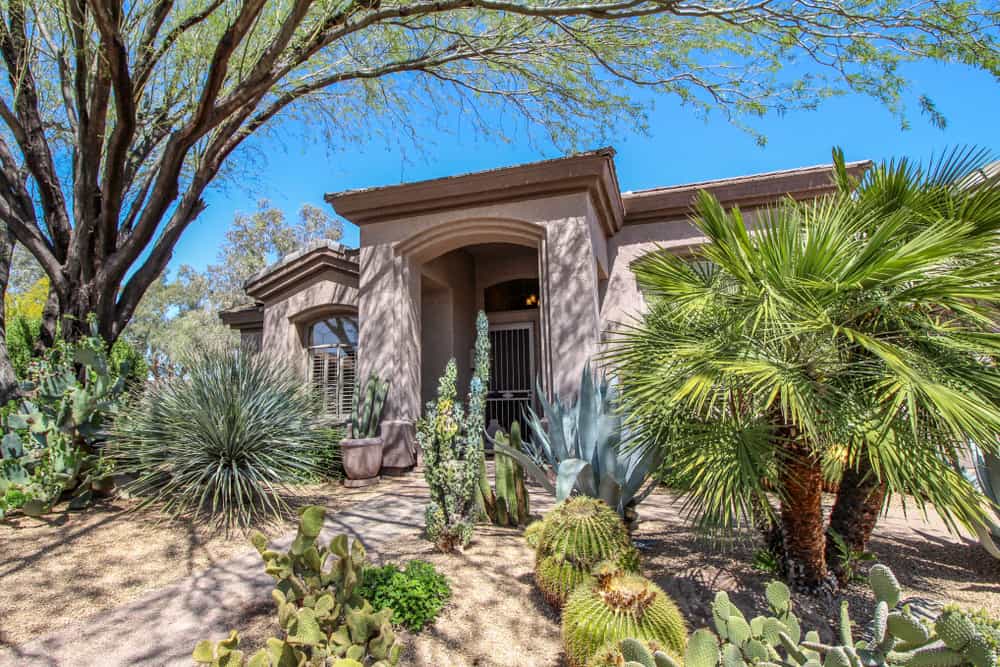 Ranked as the 14th safest city in Arizona, a few of the top neighborhoods in Peoria include:
Sun Town

Foxwood

Peacock Village
The city of Peoria extends from the center of Maricopa County all the way up to a small portion of Yavapai County near Lake Pleasant. Peoria zip codes are 85302, 85303, 85305, 85307, 85308, 85310, 85342, 85345, 85351, 85361, 85373, 85381, 85382, 85383, and 85387. You can expect to get an area code of either 623 or 928 if you switch over to a new phone number after moving to Peoria.
And you'll be happy to hear that residents living in Peoria have a great supply of places to shop such as Lake Pleasant Towne Center, Safeway, Fry's, Target, Park West, Walmart, Sprouts Farmers Market, and Peoria Crossings.
6. Top-ranked Schools in Peoria
With a large population of about 28,672 school-age children between 5 and 17 years old, Peoria hosts multiple districts including the Deer Valley Unified District, Peoria Unified School District, Happy Valley School District, and BASIS Charter Schools. Some of the education programs in the city are ranked among the top in the entire state of Arizona.
Some of the best schools in Peoria are:
BASIS Peoria 5-12 (ranked 4th in Arizona schools and 27th in the U.S.)

Happy Valley School

Terramar Elementary School

Great Hearts Academies – Glendale Prep

Liberty High School
Some popular secondary schools can also be found nearby such as Arizona State University (ASU), Grand Canyon University, Arizona Christian University, and the University of Phoenix.
7. Reliable Jobs in Peoria
With a median household income of $69,589 in Peoria, local residents make slightly more than the national average. Many people commute from Peoria to Phoenix about 14 miles away, which normally takes about 30 minutes in either direction.
The most common industries found in the area include healthcare, retail, insurance, education, construction, and manufacturing. Among these fields, there is a wide variety of positions such as administrative support, business management, sales, marketing, and more.
In the area, some of the largest employers that provide Peoria jobs include:
Intel

Salt River Project (SRP)
8. Hot Peoria Weather
Following suit with other Phoenix suburbs, the city of Peoria is known for its hot temperatures during summer and mild, cool winters. This makes it possible to enjoy outdoor activities at places like Sahuaro Ranch Park, Peoria Sports Complex, and Thunderbird Conservation Park and any time of the year.
During the cooler months, residents living in Peoria experience comfortable temperatures between about 40°F and the mid-60s. Then, the weather in Peoria warms up significantly for a couple of months during summer where temps reach lows in the 80s and highs up around 110°F.
Tips for Moving to Peoria, AZ
Growing more every year, Peoria is a hot spot for great people and close communities.

The city covers a huge area so take your time to find a great place to live.

You'll find a pretty affordable living cost depending on your budget.

Young students will get a quality education thanks to the area's top-rated schools.

Enjoy nice weather most of the year but plan for a few hot summer months.
There's no question that living in Peoria is a great choice for people interested in the Phoenix metropolitan area. If relocating to Peoria sounds like it's a good fit for you, then the friendly movers at Mentors Moving would be happy to help! Get in touch with us today by calling (480) 376-1009 or fill out the Request a Quote form to get a free moving estimate!