Located about 19 miles west of downtown Phoenix, the city of Goodyear, AZ is a popular and affluent part of the Valley. With bordering cities like Tolleson, Litchfield Park, and Waddell, it is a truly nice place to call home.
Named after the Goodyear Tire Company, farmland in the city grew much of the cotton that was used in their tire manufacturing processes. Though Goodyear is most commonly known for its professional sporting destinations that bring hundreds of thousands of visitors to the area every spring. 
Anyone thinking about moving to Goodyear will quickly realize that it's a great place to live with a wide variety of benefits of local hotspots. Check out this complete guide to learn more!
1. People of Goodyear – Population & Demographics
Goodyear was the third fastest-growing city in Arizona during the 1990s. Over the course of the few decades the city has been around, the Goodyear population has reached 74,953 residents with a median age of 37 years old. It is a hub of safety for people of all ages ranging from young families and college students to senior citizens who are retiring.
The gender split leans slightly in favor of women living in Goodyear with about 52.11% of the population being female and the other 47.89% being male. Goodyear demographics have fluctuated dramatically over the past 20 years with about 54.6% Caucasian local residents, 27.5% Hispanic or Latino, and 8.7% African American.
2. Things to Do in Goodyear
If there's one thing people find after moving to Goodyear, it's that they are never bored. With a wide range of fun things to do in Goodyear, one of the most popular is the Goodyear Ballpark. This exciting venue hosts spring training baseball games for Major League teams that include the Cincinnati Reds and Cleveland Indians.
View this post on Instagram
Goodyear Ballpark, 1933 S Ballpark Way, Goodyear, AZ 85338
(623) 882-3120
During the offseason, you'll also find other great activities in Goodyear at places like Estrella Mountain Regional Park. Spanning about 19,840 acres, this breathtaking desert landscape offers incredible views, hiking trails, and picnic areas. It's one of the top things to do in Goodyear at any time of year.
Estrella Mountain Regional Park
View this post on Instagram
Estrella Mountain Regional Park, 14805 W Vineyard Ave, Goodyear, AZ 85338
(623) 932-3811
3. Restaurants & Places to Eat in Goodyear
With hot temperatures coming around during the summer, it's always nice to know about the best Goodyear restaurants where you can escape the desert heat. One of the top places to eat can be found at Haymaker, a popular All-American diner serving breakfast dishes and burgers. Visitors will love the variety of entrees, which includes omelets, pancakes, and waffles, as well as BBQ, sandwiches, soups, and salads for lunch and dinner.
View this post on Instagram
Haymaker, 1800 N Litchfield Rd, Goodyear, AZ 85395
(623) 932-3811
Craving some delicious seafood? Head over to the Angry Crab Shack for a huge array of shrimp, crab, lobster, clams, crawfish, mussels, and more. As one of the most popular restaurants in Goodyear, this place is well worth a visit or two, or three.
View this post on Instagram
Angry Crab Shack, 310 N Litchfield Rd, Goodyear, AZ 85338
(480) 878-6900
4. Goodyear Cost of Living
Overall, Goodyear is considered a fairly affluent community in the Phoenix Valley. The cost of living in Goodyear is about 9% higher than the Arizona average as well as 11% higher than the national median living cost. When it comes to standard expenses, people moving to Goodyear can expect to pay a bit more for things like utility bills, transportation, groceries, and housing.
About three out of every four residents living in Goodyear are homeowners. With that in mind, those planning to purchase a house can expect to find the average price of a home in Goodyear is $312,357, which has increased by nearly 6% over the past 12 months. If you're looking at Goodyear, AZ homes for sale, you'll see options ranging from small mobile homes to large, multimillion-dollar properties.
For those who expect they'll be part of the 25% who lease their living arrangements, you'll be able to find affordable apartments and condos all over town. The average price of rent in Goodyear is between $1,022 per month for a one-bedroom and $1,175 for a two-bedroom.
5. Neighborhoods in Goodyear
The city of Goodyear has an area of about 191 square miles that is essentially split in half by the Gila River. It is among the top 18 safest cities in Arizona, making it a wonderful option for family-friendly communities and secure living.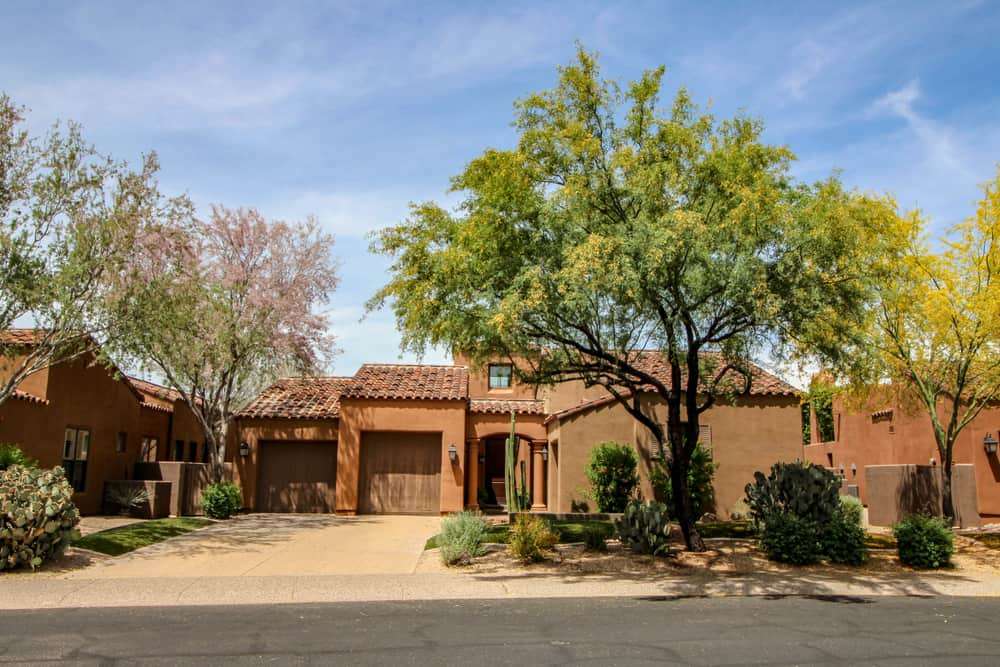 A handful of the best Goodyear neighborhoods around town are:
Centrally located in Maricopa County, the Goodyear area covers the zip codes of 85139, 85323, 85326, 85338, 85340, and 85395. Similar to Phoenix, phone numbers in Goodyear tend to have either a 623 or 602 area code.
Shopping in Goodyear offers locals a wide variety of options that are nearby including Safeway, Walgreens, BevMo!, Walmart Supercenter, Best Buy, and Palm Valley Crossing Mall.
6. Goodyear Schools
Local schools in Goodyear are part of multiple trusted districts including the Avondale Elementary District, Litchfield Elementary District, Agua Fria Union High School District, and the Buckeye Union High School District. Between these options, there are about 13,508 students between the ages of 5 to 17 years old living in Goodyear, making up about 18% of the city population.
A few of the most reputable Goodyear schools you'll find are:
Basis Charter Schools

BASIS Goodyear Primary

Wildflower School  

BASIS Goodyear 6-12 

Western Sky Middle School

Desert Edge High School

Millennium High School

Estrella Foothills High School
7. Jobs in Goodyear
As you prepare for relocating to Goodyear, you may be looking into the local job market to see what kind of opportunities are available. The Goodyear median household income is about $77,930 per year, which is about 25% higher than the national average.
Some of the best employers where you can find reliable Goodyear jobs include:
Abrazo Healthcare's West Valley Hospital

Avondale Elementary School District
A large number of locals residing in Goodyear commute for work to other neighboring cities as well. Many of these individuals travel from Goodyear to Phoenix, AZ about 30 minutes or so away.
8. Goodyear Weather
Even as it carries on with the tradition of hot, dry summers that are the norm for the Phoenix Valley, you'll find Goodyear weather still presents plenty of fun outdoor activities for you to enjoy. Along with the Estrella Mountain Regional Park mentioned above, other great places to visit include Goodyear Community Park and the Estrella Star Tower.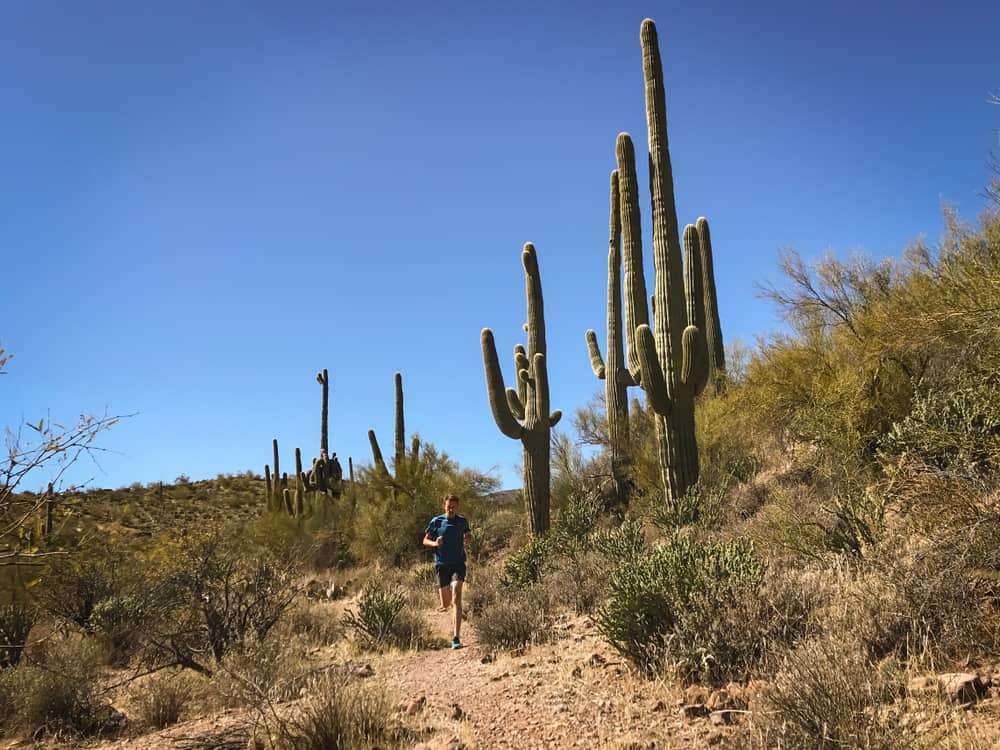 The weather in Goodyear brings summers between lows in the mid-80s and highs above 100°F. But Goodyear winters are a beautiful time of year with temperatures from the low 40s to the mid-60s on average.
Tips for Moving to Goodyear
You'll be moving to a growing city with a wide range of fun things to do.

Prepare your wallet for the slightly higher cost of living in the city.

Enjoy a safe and comfortable suburban lifestyle with good schools and great jobs.

Bring sunscreen for summers but plan on wearing shorts and t-shirts all year.
Does relocating to Goodyear sound like the right choice? The incredible Goodyear movers at Mentors Moving & Storage are dedicated to providing you with the best transition experience available. Give us a call today at (480) 376-1009 or complete the Request a Quote form for a free moving estimate!