Located on the opposite side of South Mountain, the city of Ahwatukee Foothills, AZ is about 18 miles south of downtown Phoenix. Known for being a nice urban community on the southside of town, it is surrounded by other nearby cities like Chandler, Tempe, Laveen, and Komatke.
The city's full name is Ahwatukee Foothills Village but it is more commonly known as simply Ahwatukee. Many people living in Ahwatukee also call it by a local nickname of "The 'Tuke".
As you consider moving to Ahwatukee Foothills, you'll find the area is home to great people, fun things to do, and pleasant weather for most of the year.
1. People of Ahwatukee, AZ – Population & Demographics
The steadily growing population in Ahwatukee is currently about 77,288 people with a median age of around 39 years old. It has housed many famous people over the years including Todd McFarlane who is a well-known comic book artist for The Amazing Spider-Man comics.
Ahwatukee demographics point to the population being made up of about 70% Caucasian, 15% Hispanic or Latino, 6% Asian, and 5% Black or African American. The gender ratio leans slightly in favor of women with a split of about 52% female and 48% male. Recognized as a fairly affluent part of the Phoenix Valley, the median household income in Ahwatukee is $95,279.
2. Things to Do in Ahwatukee
Outdoor activities thrive in Ahwatukee as locals living in the area have plenty of nearby attractions to enjoy at all times of the year. One of the best places to visit in Ahwatukee is the South Mountain Park and Preserve, a 16,000-acre space with everything from mountain ranges and hiking trails to horseback riding and mountain biking paths. Make your way to the top and take a look at the incredible view of Phoenix as well as the East Valley.
South Mountain Park and Preserve
View this post on Instagram
South Mountain Park and Preserve, 10919 S Central Ave, Phoenix, AZ 85042  
With a children's playground and plenty of room to run and play, Desert Foothills Park offers another one of the top things to do in Ahwatukee. Every year, local residents and visitors visit the park for "The Festival of Lights", where thousands of paper lanterns are sent into the sky. The park also features sports facilities that include a baseball field, softball field, tennis courts, basketball court, sand volleyball, and much more.
View this post on Instagram
Desert Foothills Park, 1010 E Marketplace SE, Phoenix, AZ 85048  (602) 262-6111
Additional Ahwatukee Attractions
3. Ahwatukee Restaurants
Whenever you're ready to grab a bite to eat around town, you'll want to know where to find the best places to eat in Ahwatukee. One of the top diners in the area is Los Taquitos, a family-owned Mexican restaurant with a cozy atmosphere for anyone who visits. Their claim to fame is their delicious line of tacos that can be customized in various ways.
View this post on Instagram
Los Taquitos, 4747 E Elliot Rd #17, Phoenix, AZ 85044  (480) 753-4370
Spinato's Pizzeria and Family Kitchen is another one of the best restaurants in Ahwatukee. They have a few locations around the state of California where they serve a great spread of items from their menu. Stop by and try their salads, Italian sandwiches, pasta dishes, and, of course, a wide variety of specialty pizzas.
Spinato's Pizzeria and Family Kitchen
View this post on Instagram
Spinato's Pizzeria and Family Kitchen, 4848 E Chandler Blvd, Phoenix, AZ 85048  (480) 961-0208
4. Cost of Living in Ahwatukee, AZ
Compared to other parts of the state, Ahwatukee is a bit more expensive when it comes to living costs. While you will typically spend less on groceries, transportation, and healthcare, you will also spend more on local utilities and the housing market. Overall, the cost of living in Ahwatukee is about 16% higher than the Arizona average and about 12% higher than the average across the nation.
About 2 out of every 3 households residing in Ahwatukee are homeowners. Searching through the available options across the city, you'll generally see the average listing price of homes in Ahwatukee is $425,000. Ahwatukee, AZ homes for sale spend an average of 26 days on the market, requiring a 22.5% down payment and generally going for a median sale price per square foot of $204.
And as for the other ⅓ of people moving to Ahwatukee who choose to be renters, they have a few options to pick from. Rent in Ahwatukee Foothills is about 13% higher than the Phoenix average at around $1,290 per month. The price will vary based on what part of town you live in and how big your location is.
5. Ahwatukee Neighborhoods
Neighborhoods in Ahwatukee have low crime rates, giving its residents peace of mind within the security of their communities. Newcomers relocating to Ahwatukee Foothills enjoy crime rates that are 57% lower than the Phoenix average and 30% lower than the national average.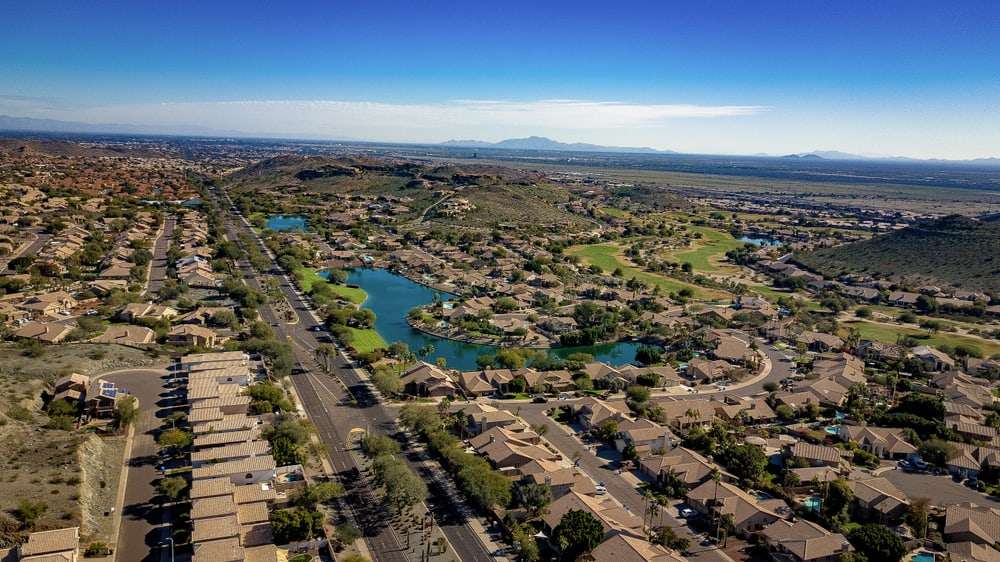 Taking up an area of about 36 square miles, there is more than enough room for everyone living in this comfortable city. Some of the top Ahwatukee neighborhoods include:
Portofino

Ahwatukee Equestrian Estates

Fairways at the Foothills
Located within Maricopa County, Ahwatukee covers a handful of zip codes including 85042, 85044, 85045, 85048, 85226, 85283, and 85339. Your new area code will be either 602 or 480 if you choose to switch your phone number after moving to Ahwatukee.
Locals residing in Ahwatukee have a wide range of great places to shop such as Ahwatukee Foothills Towne Center, Trader Joe's, Fry's Marketplace, Lakeside Plaza, Hobby Lobby, PetSmart, the Ahwatukee Plaza, Party City, and Ahwatukee Palms Plaza.
6. Ahwatukee Schools
Kids living in Ahwatukee are supported by the Kyrene Elementary School District and the Tempe Union High School District. Making up about 18% of the local population, there are around 13,657 children between the ages of 5 and 17 in the area.
The top schools in Ahwatukee are:
Horizon Honors Elementary School

Kyrene de la Sierra School

Kyrene Altadena Middle School

Kyrene de Los Lagos School

Kyrene Monte Vista

Desert Vista High School
There are few secondary schools both in and around Ahwatukee, which includes South Mountain Community College, Rio Salado College, and the reputable programs at Arizona State University, all less than 10 miles away.
7. Jobs in Ahwatukee
As an affluent part of the Valley, people living in Ahwatukee tend to be hard workers with good jobs. Some of the top careers in Ahwatukee includes roles as business managers, customer service representatives, retail salespeople, chefs, registered nurses, school teachers, and administrative workers. Many fill these Ahwatukee jobs in the most common local industries such as food services, education, construction, healthcare, insurance, banking, air transportation, and construction.
Some of the largest employers you'll find in Ahwatukee Foothills are:
State of Arizona

Wells Fargo

Apollo Group Inc.

Intel
Lots of people moving to Ahwatukee tend to work in other cities close by. The majority of residents commute from Ahwatukee to Phoenix, which is about 18 miles away, taking around 30 minutes of travel time both ways.
8. Ahwatukee, AZ Weather
To experience the many great outdoor activities offered in this area, it's nice to have pleasant weather in Ahwatukee for most of the year. While it can get hot during the summer months, the three other seasons take over most of the year and provide plenty of relief from the heat.
Summertime brings temperatures between lows in the mid-70s and highs that can hit 110°F and above. Winter averages drop significantly from lows in the 30s and mid-40s to highs in the upper 60s. Since it is technically a part of the desert, you should anticipate only about 12 inches of rain every year.
Living in Ahwatukee Pros & Cons
Pro:

Lots of fun things to do and great places to eat in Ahwatukee.

Pro:

Great weather for nine months out of the year, giving ample time to enjoy the outdoors.

Con:

The real estate market is a bit on the high side, though you tend to get what you pay for.
Moving to Ahwatukee, AZ
If relocating to Ahwatukee Foothills sounds like the perfect step for you, our team would love to help with your upcoming transition. Get in touch with Mentors Moving today by calling (480) 462-6652 and hire our trusted Ahwatukee Foothills movers! Or take a brief moment to complete the Request a Quote form on this page for a free moving estimate!