Are you tired of your home's outdated style and ready for a change? Or are you preparing to move into a new home that you want updated to reflect your unique aesthetics and lifestyle? Working with an interior designer in Phoenix can be a fun way to achieve the look and feel you want with the perfect blend of form, color, and function.
Why hire an interior designer? A designer brings not only ideas but experience and connections to help you make your dream home a reality. They can help you determine your design style, whether it's Mid-Century modern, farmhouse, or rustic. They'll help you improve your home without the stress, gain access to professionals you can trust, and really achieve the wow factor you're looking for.
Here are some of the best firms for interior design in Phoenix you'll want to consider to help you maximize your home's potential.
Interior Designer vs. Decorator – What's the Difference?
If it's your first time working with a professional to design and decorate your home, you probably have some questions. What is an interior designer? What's the difference between a designer and a decorator? Before you dive into the fun of home decorating in Phoenix, it helps to know what type of services you need to choose the right firm.
Interior designers and interior decorators in Phoenix are often used interchangeably but there are differences between these two terms. Despite the overlap, interior design focuses on creating a functional space while interior decorating is all about the decorative elements that achieve your desired aesthetic effect.
Interior designers have a more complex job and usually have higher education, qualifications, and special skills. Interior decorators do not require a license or formal education. If your plans will include remodeling, spatial planning, changing your floor plan, adding windows, or other structural elements, you'll want an interior designer.
Are you more interested in giving your existing space a new look and feel without big changes? Phoenix interior decorating firms can help, usually with a lower cost.
Mackenzie Collier Interiors – Top-Rated Residential and Commercial Decorator & Interior Designer in Phoenix
Founded in 2011, Mackenzie Collier Interiors does it all – and does it all well! As one of the most well-known interior design firms in Phoenix, they style, decorate, and remodel residential and commercial spaces.
Want to give your home or office a makeover? Their interior decorating services can help you with a plan to breathe new life into your space within your budget. You'll work with a team of interior designers who create a dream room. After curating the best ideas from the team, you'll receive a digital design board with all the items sourced for your space and a custom floor plan. Pricing starts at $2,899 per room.
Need something a bit more involved? Their residential remodeling services are perfect for new builds, full remodels, and updates. They do it all, including new homes in Phoenix, custom homes, historic homes, condos, and newly purchased existing homes in need of an update.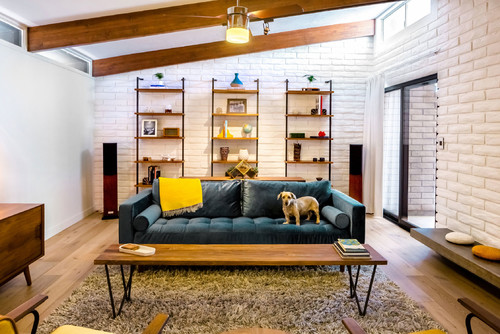 For commercial clients, Mackenzie Collier Interiors focuses on creating sustainable, unconventional designs that are fun and functional. They specialize in hotels, restaurants and bars, offices, retail, and multi-family design.
Check out their portfolio to see beautiful examples of their specialties: Bohemian, Mid-Century, and Modern design.
Mackenzie Collier Interiors, 734 W Polk St, Phoenix, AZ 85007 (602) 529-2191
Earthen Co Interiors – Affordable Phoenix Interior Decorator Focused on Natural Elements and a Lived-in Style
Located in downtown Phoenix, Earthen Co Interiors is a Phoenix interior design and style boutique with a laidback and fresh approach. The firm strives to deliver services that combine budget and style to create lived-in spaces. They also excel at combining new finds with unique vintage pieces with natural elements and neutral tones.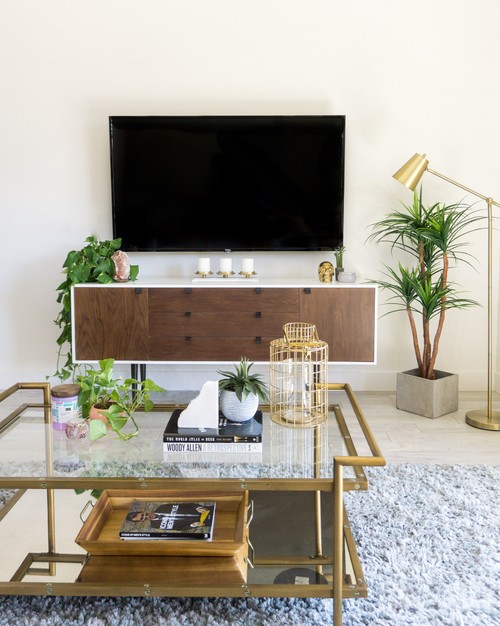 Whether you're remodeling a home you just bought or ready to give your home a fresh, new look, Earthen Co Interiors is a great choice for a design that fits your family's lifestyle and needs without being too stuffy.
Earthen Co Interiors, 734 W Polk St Phoenix, AZ 85007, Phoenix, AZ 85004 (623) 414-0680
Castle Designs – Full-Service Phoenix Interior Designer Known for Masculine Contemporary Design
Do you appreciate a clean, masculine design? Castle Designs is one of the leading interior designers in Phoenix with a focus on contemporary design. Founded by Lola Castle in 2014, Castle Designs offers upscale contemporary interior design and luxury home staging in Phoenix.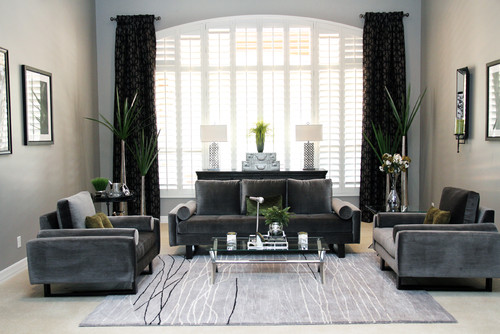 Castle Designs is a 9-time Best of Houzz winner that has been awarded every year since 2015. In 2021, the firm earned the Best of Houzz award for both service and design. Lola is noted for her professionalism, enthusiasm, and thoughtful attention to every detail. As one colleague put it, Lola is "very detail oriented with a knack for designing spaces that will last through time and trends."
You can check out the Castle Designs portfolio here to see the results this top-rated Phoenix interior designer can achieve.
Castle Designs, 3465 E Azalea Dr, Gilbert, AZ 95298 (480) 415-6705
Center Stage Interiors – Full-Service & Budget-Friendly Interior Designer in Phoenix Featured on HGTV
Center Stage Interiors was founded with a simple purpose: to make interior design more affordable and accessible to real people. The firm builds partnerships with contractors, suppliers, liquidators, retailers, and painters to pass on the savings and offers flat fees so you always know what to expect.
This Phoenix interior decorator and designer offers everything from home staging to help you sell your house to interior design and renovations. From contemporary living spaces and glam design to children's rooms, kitchens, and bathrooms, you'll find it easy and affordable to get the striking design you've always wanted.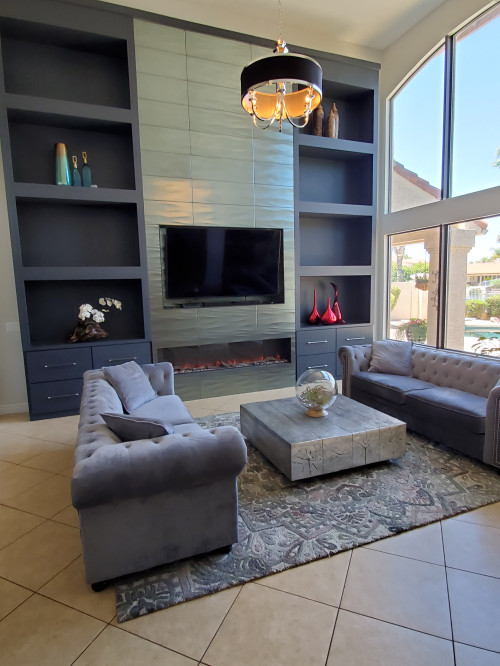 Center Stage Interiors has earned 7 Houzz awards including Best of Houzz Service for 2021. Their ability to accommodate small budgets is a major standout! Design and color consultations start at just $250 with flat-rate design fees ranging from $1,000 to $25,000. Remodeling fees, however, depend on the project's scope. Check out their portfolio here!
Center Stage Interiors, Gilbert, AZ 85297 (480) 444-8552
Looking for something truly remarkable? If you have a large budget, don't overlook Fratantoni Interior Designers, a family-owned business founded by Josie Fratantoni along with a separate architecture firm. Fratantoni Interior Designers can handle all of your interior design needs including drawing up blueprints for a custom home, custom-made furniture, and upscale interior decorating.
View this post on Instagram
Fratantoni Interior Designers typically handle projects between $200k and $20 million in scope. They specialize in opulent styles like Italian, Mediterranean, Modern, French Country, and Spanish Colonial. Their work isn't limited to the Phoenix area; they serve the entire United States.
Fratantoni Interior Designers have been featured in Luxury Home Magazine, Sub-Zero, Heart & Home Magazine, and many more. If your heart is set on formal, dramatic, and European-inspired design, you'll fall in love with their portfolio of award-winning projects.
Fratantoni Interior Designers, 9811 E Bell Rd #110, Scottsdale, AZ 85260 (480) 621-7878
View this post on Instagram

Lydia Sweetland has more than 20 years of experience in interior design and decorating. She began her career with historic homes and moved into home staging in Northern California. ThinkSpace Design is primarily focused on staging homes for sale. Sweetland is a licensed Realtor and partners with an experienced real estate photographer. She's staged homes ranging from $65k condos to $8 million homes.
However, she also offers luxury interior decorating for homeowners. She was named Arizona's Favorite Interior Designer in 2018 and offers everything from kitchen and home office design to space planning, art selection, and color consulting.
Learn more about Sweetland and see her amazing interiors at Shoutout Arizona.
Lydia Sweetland ThinkSpace Design and Home Staging, 50 W Mariposa St, Phoenix, AZ 85013 (602) 570-5323
Map of Top Phoenix Interior Decorators & Designers
Ready to dive in and achieve the home of your dreams? Whether you're moving into a new home in need of some updates, staging your home for sale, or planning a major remodel, Mentors Moving & Storage is ready to pitch in and help. Our friendly movers can help address your moving, remodeling, and storage needs while you work with the Phoenix interior decorators of your choice! Call us today at 707-205-3548 for a free estimate.