Senior Relocation Services in Phoenix with Mentors Moving
As we get older, things get harder. Our bodies just aren't able to do what they used to, and that's especially true when it comes to something as strenuous as moving.

But what precisely does it mean to be a senior? In the United States, it can be difficult to put an exact number on when someone becomes a senior, but the range is generally from the late 50s to early 60s, just about when the typical person retires. This is also about the time where physical activity begins to become more difficult, and certain conditions can rear their head that also make everyday activity harder.

All this is to say that senior moves require extra care and planning, not to mention a crew that is specially trained in the art! Finding the right senior moving company for this sort of delicate job can be tough, but for senior moving services in the Phoenix metropolitan area, there's nobody better suited to this kind of work than Mentors Moving!

We service all of the Phoenix Metropolitan area which includes all of Maricopa County, and North Pinal County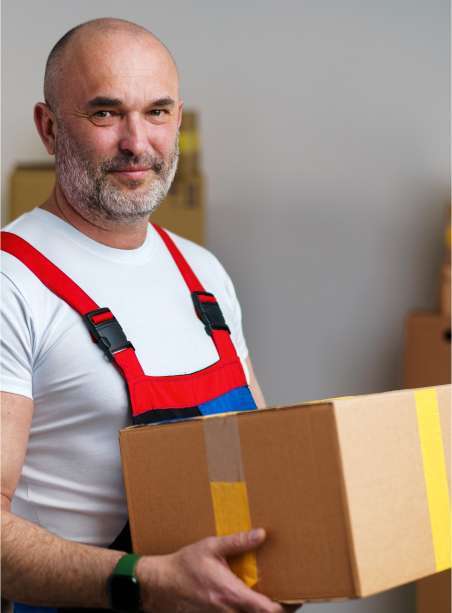 Why Are Seniors Using Phoenix Senior Moving Companies?
Most people, when thinking of senior citizens, don't typically take them as the types to move around a lot, especially when that moving takes place over hundreds of miles! However, the reasons for employing a senior mover are numerous, and some of the reasons why seniors move may surprise you!
Perhaps the most obvious reason moves for seniors occur is to move into an assisted living community. Hectic work schedules make it difficult for families to take care of their older relatives, hence why many choose to employ senior homes. The second most obvious reason is to move to a dedicated retirement community. Communities like these can vastly improve an elderly person's quality of life, with attractions of all sorts suited to someone who's getting older. If they're lucky enough to have a family with enough free time to care for them, seniors moving in with their families is also common.
Less obvious for senior moves are reasons like downsizing, as large homes are unaccommodating to older folks, as well as better job opportunities, as many seniors work well past retirement age in certain sectors. Regardless of the reason for hiring a senior moving assistance specialist, it is absolutely necessary that a prospective mover hire a senior moving company that's prepared to handle this sort of job.
Considerations For Using Phoenix Senior Movers
While this is certainly repeating ourselves, we must reiterate that there are many special considerations to be acknowledged undertaking senior moving. These kinds of relocations are difficult – more difficult than the typical move, which is saying something! What sort of problems will a senior face during a move

Like any move, meticulous planning is required to make sure everything goes smoothly. While hardly unique to a senior move, our senior move manager is sure to make this part of the process simple!

Another challenge that is common to most moves, but is most especially critical to senior moves, is proper downsizing. Most moves will involve downsizing to some extent, but seniors are likely to have an immense amount of items, which need to be carefully sorted through and determined to be of enough worth to go to the new location, or to be given or thrown away. Typically, new homes for senior moves are smaller, so take that into consideration as well.

Additionally, homes seniors used to live in may be quite old and not well-maintained. While this won't affect the senior's new living arrangements, it is something to consider for selling the place after your senior move is complete. Make sure you get the old home properly checked out before putting it on the market!
Top Reasons to Hire A Phoenix Area Senior Relocation Company
The reasons for choosing to hire a company for moving help for senior citizens are as numerous as there are moves. Unless you have quite a few family members with professional moving experience, there's little compare to a full senior relocation crew handling this sort of special situation.

For the most part, hiring a professional moving company for the job has many of the same benefits as it would in any old move. Professional relocation teams provide peace of mind, with excellent safety procedures to make sure nobody is injured and no items are damaged. They're also liable to save time – a dozen pairs of hands is much better than one when it comes to moving!

It's also worth noting that top-rated senior movers are also equipped to handle things like storage of items caught up in downsizing, as well as packing, which is difficult for most seniors to do at all. We even work with senior move managers to make the process that much smoother!
Cost of Hiring a Phoenix Senior Moving Company
Just as there are many reasons to undertake a senior move, there are also many variables that will affect the final cost of such a move.
Here are just a few of the factors that affect the final bill on your relocation:
How many movers are required for your situation

The distance involved (local moves charge differently than long distance ones)

The volume of items needed to be stored or relocated

Seasonal prices (is the move taking place during a busy season?)

Services provided, such as many pertaining to seniors
As you might've guessed, there's few ways to know your final price until you actually undertake it. However, if you want to know beforehand, the best way to do so is to call or visit the web page of your moving company of choice and get a quote. In the case of Mentors Moving, our quotes are completely free of charge to request!
Choosing the Best Phoenix Senior Mover
While it's most certainly true that hiring a professional moving company for the job can relieve a lot of stress and save lots of time, that's only true if the moving company in question is actually staffed by professionals! So, how do you know you're hiring the right team?
Firstly, check their reviews on Google or Yelp. See how long they've been in business, and what their claims rate is. Make sure they're properly licensed and insured, and read up on what people have experienced working with them.
Finding the right mover is hard, especially when you need to handle something as complicated as a senior move, but you don't need to worry any longer: Mentors Moving has you covered! We have more than fifteen years of experience, excellent reviews on Google, and crews specially trained to handle even the toughest senior move! We serve the Phoenix metropolitan area, which includes all of Maricopa County and North Pinal County!
Ready to undertake the journey in relocating yourself or a senior relative to a new home? Give us a call at 480-376-1009 or fill out the form on our web page to get your free quote today. When it comes to Phoenix metropolitan area senior movers, nobody does it better than Mentors Moving!